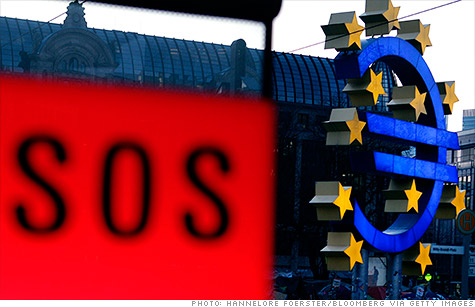 In a widely expected move, the ECB cut rates to an all-time low.
NEW YORK (CNNMoney) -- The European Central Bank lowered interest rates Thursday to all-time lows but did not introduce any unconventional moves to stimulate economic activity.
The ECB cut its main lending rate by a quarter of a percentage point to 0.75%. The move was widely expected by the market and followed a surprise rate cut announcement by China's central bank earlier Thursday.
During a press conference, ECB President Mario Draghi said the bank's decision was unanimous.
In addition to cutting its main lending rate, the ECB also lowered two other key interest rates. The interest rate on a marginal lending facility was decreased to 1.5%, and interest rates on deposits were lowered to zero.
Some investors had been hoping the ECB would cut rates to 0.5%. During his press conference, Draghi declined to discuss what other steps the bank might take. He did stress that the ECB has more tools at its disposal if the economy should continue to falter.
"There's not such a feeling that we're running low on policy options," said Draghi.
Separately, the Bank of England held rates steady Thursday morning at 0.5%. But the BOE agreed to back an additional £50 billion in asset purchases, raising its total to £375 billion.
Investors had been hoping for coordinated action by central banks to prop up the faltering global economy. While Thursday's moves at first blush appeared to be another step in that direction, investors didn't think they did enough. European and U.S. markets sold off following Draghi's press conference.
"These moves were highly necessary and widely expected, but are insufficient to turn the eurozone economy around," said Holger Schmieding, chief economist at Berenberg Bank. "The ECB would have to do more to intervene to calm market anxiety."
Draghi offered sober assessments of the eurozone's economic growth prospects throughout his press conference.
"We see now weakening of growth in the whole of the euro area including countries that had not experienced that before," he said.
While Draghi did not give any indication that the ECB might consider a third long-term refinancing operation to funnel funds into European banks, he said that the so-called LTRO did help reverse outflows of capital from the eurozone.
But the two previous LTRO programs were unable to increase lending around the eurozone, Draghi added, noting that the ECB cannot manufacture demand for loans.
Last week, euro area political leaders agreed to move towards a centralized banking authority under the direction of the ECB. Yields on Spanish and Italian bonds have eased since last week.
But economic conditions in the euro area have deteriorated, with declines in manufacturing activity pointing to a sharp slowdown in the second quarter.
At the same time, inflation in the eurozone was unchanged in June at 2.4%, while prices fell in Germany and Spain. The ECB's target rate for inflation is 2%, but the central bank has said it expects prices to remain "anchored" in the near-term.
CNNMoney's Ben Rooney contributed to this report