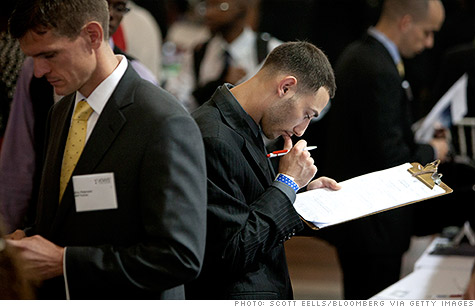 A job seeker fills out an application at the Veterans On Wall Street job fair in New York.
NEW YORK (CNNMoney) -- All eyes are on jobs this week, as economists brace for Friday's June jobs report from the government.
Economists surveyed by CNNMoney expect the monthly report to show the economy added 95,000 jobs in June.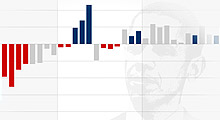 The U.S. lost 4.3 million jobs in President Obama's first 13 months in office. Track his progress since then.
That would be an improvement over the 69,000 jobs added in May, but is still pretty weak and unlikely to make the unemployment rate budge from its current 8.2%.
So far this year, the Labor Department's reports have shown hiring peaked in the winter and then slowed in the spring -- a phenomenon many economists attribute to warmer weather early in the year, and a similar pattern to recent years.
But now that the weather effect has subsided, there is still doubt that hiring has rebounded to levels strong enough to bring the unemployment rate down.
"What's suppressing payroll growth in recent months is what we've seen in previous years," said Michael Gapen, senior U.S. economist with Barclays. "We tend to get a spike in uncertainty from events in Europe and some domestic political concerns in the U.S."
"When we get an increase in general uncertainty, employers tend to postpone investment and hiring decisions," he added.
While the outlook is still somewhat pessimistic, several reports released Thursday gave a sudden glimmer of hope, leading some economists to raise their forecasts for Friday's report.
Fewer companies announced plans to lay off workers and private businesses said they're hiring more people in June. Meanwhile, claims for unemployment benefits fell during the last week of the month.
About 374,000 people filed for first-time unemployment benefits last week, 14,000 fewer than the week before, the Labor Department reported.
While that week is too late to be counted in June's job report, it's an encouraging sign that layoffs may be slowing, especially considering that initial claims had been moving in an upward trend earlier in June.
That message was also reinforced by another report that showed companies announced fewer layoffs in June, according to data collected by Challenger, Gray & Christmas, Inc. Employers announced 37,551 planned job cuts, the lowest number in 13 months, the report said.
And separately, a report released by payroll-processing company ADP beat expectations and showed that private businesses added 176,000 jobs in June, a significant improvement over the month before.
That report counts only private sector jobs, but is still considered by many to be a good predictor for the monthly report from the Department of Labor. Though historically, that hasn't always been the case.