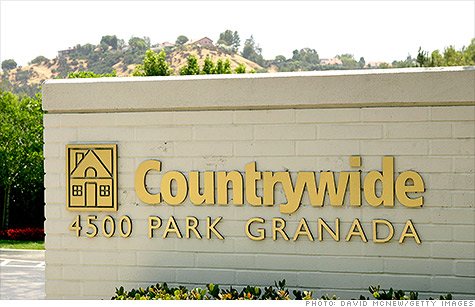 NEW YORK (CNNMoney) -- Countrywide Financial, once the nation's largest mortgage lender, bought influence on Capitol Hill by issuing hundreds of sweetheart loans for members of Congress, their staffs and other government employees, according to a report issued by the House of Representatives Thursday.
The three-year investigation, which was led by House Oversight and Government Reform Committee Chairman Darrell Issa, revealed the extent to which Countrywide was offering discounted loans and other perks to Congress members and other officials in order to benefit its business interests.
Referred to as the "VIP program" or the "Friends of Angelo" program -- after former Countrywide founder and CEO Angelo Mozilo -- this preferential treatment varied with the importance and influence of the borrowers and included such perks as lower loan rates, expedited loan processing and less stringent underwriting standards, the report said.
Countrywide, which Bank of America (BAC, Fortune 500) purchased in 2008, specialized in subprime loans, the risky mortgage products issued to borrowers with not so great credit that began to record exceptionally high default rates in 2007 ushering in a wave of foreclosures. Richard Simon, a Bank of America spokesman, said he wouldn't comment on the report's findings. However, he did note that Bank of America discontinued Countrywide's VIP program at the time of the acquisition.
The VIP program first made headlines in June 2008 when it was revealed that many influential policy makers, including former Senate Banking Committee Chairman Christopher Dodd, D-Conn., and current Senate Budget Committee Chairman Kent Conrad, D-N.D., received special terms on mortgages from Countrywide.
The House Oversight Committee started its investigation into the program in 2009, and has since discovered that these loans were extended to thousands of people, including almost a dozen lawmakers and former executive branch officials. In addition, thousands of Countrywide employees, as well as employees of Congress, the White House, Fannie Mae (FNM), Freddie Mac (FRE) and other government entities were also offered the special loans.
The loan recipients typically received discount of 0.5 to a percentage point on origination points, lower mortgage rates and waivers on fees amounting to several hundred dollars.
In addition, Countrywide allowed some VIPs free floats. As interest rates fell during the time when loans were being processed, the company allowed applicants to take the lower rate at closing. Usually, the bank charged for this but it would waive the fees for VIP customers.
Underwriting standards were often relaxed for these borrowers as well, with Countrywide employees even filling in blanks on applications when borrowers did not want to reveal information on income or employment, according to the report.
Loan terms for Senators Dodd and Conrad, as well as House of Representative members Edolphus Towns, D-N.Y., Buck McKeon, R-Calif., Tom Campbell, R-Calif., and Elton Gallegly, R-Calif., were spelled out in the House Oversight Committee report.
In response, Congress members Towns and Gallegly issued statements noting that they were never aware they received any type of preferential treatment from Countrywide. McKeon said he did not know about the "Friends of Angelo" designation.
Senator Conrad noted that his loans with Countrywide had already been investigated by the Senate Ethics Committee. "They determined -- unanimously, Democrats and Republicans -- that I received no preferential treatment and in no way acted unethically. That is the truth," he said.
"This report recycles old allegations that Republicans and Democrats on the Senate Ethics Committee investigated for 14 months before concluding that Senator Dodd did nothing wrong," wrote Bryan DeAngelis, a spokesman for former Senator Dodd. "The Senate Ethics Committee found that the rates and terms Senator Dodd received were widely advertised and available to other borrowers."
Representative Campbell has yet to respond to requests for comment.
The committee sought to question Angelo Mozilo directly but, due to health issues, it allowed him to respond to written questions.
The former Countrywide CEO denied offering discounts or special treatment to Congressmen for the purpose of influencing their official actions.
"In my mind, [the VIP program] was another channel through which we competed to originate loans that we thought would be profitable for the Company," he said.
The committee asked him about specific documented instances in which Mozilo had personally instructed his staff on how to treat the applications of several Congressmen, but Mozilo said he could no longer recall what he recommended at the time, nor his reasons for making those recommendations.
The report said that Countrywide tried to use its influence on Capitol Hill to bolster support for Fannie Mae, with which it had established a special relationship.
Fannie gave volume discounts on fees to Countrywide in exchange for the right to buy most of the mortgage loans it originated. Many of the risky loans defaulted, however, which generated billions of dollars in losses for Fannie.
"Other than Countrywide, no other entity's employees received more VIP loans than Fannie Mae," Issa said in a release. "These relationships helped Mozilo increase his own company's profits while dumping the risk of bad loans on taxpayers."
The government had to take full control over Fannie in September 2008, when the mortgage giant was put into conservatorship under the auspices of a new organization, the Federal Housing Finance Agency (FHFA).
In October, 2010, FHFA estimated that the bailout of Fannie Mae, and its sister government sponsored enterprise, Freddie Mac, had already cost taxpayers about $150 billion and losses would likely range between $224 billion and 360 billion.
Fannie Mae's spokesman, Pete Bakel, said the company had no comment on the report.