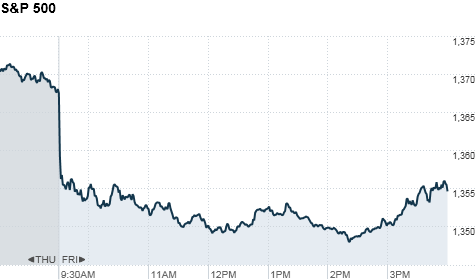 Click chart for more markets data.
NEW YORK (CNNMoney) -- A weaker-than-expected jobs report dominated investors' attention Friday, pushing all three major U.S. stock indexes down more than 1%.
The Labor Department's jobs report, which showed that the economy added just 80,000 jobs in June, came in below expectations and pointed to signs of a deceleration in employment growth -- a scary prospect for the broader U.S. economy.
"People are growing more and more concerned," said Douglas DePietro, managing director at Evercore Partners. "Everyone's asking 'how can we have a recovery without any jobs."
Stocks pared some of the steepest losses near the end of a light trading day on rumors of potential Federal Reserve intervention in the markets. A report in the Wall Street Journal said that Friday's jobs numbers could spark another round of bond buying by the Federal Reserve.
The Dow Jones industrial average (INDU) closed the day down 124 points, or 1%. The S&P 500 (SPX) fell 13 points, or 0.9%. The Nasdaq (COMP) shed 39 points, or 1.3%.
The Dow ended the holiday-shortened week down 0.8%, while the S&P lost 0.5%. The Nasdaq was barely in positive territory for the week, adding less than 0.1%.
Worries over the health of the global economy also caused investors to flee commodities. Oil prices dropped more than 3%. Copper prices dropped more than 2%, and gold prices shed nearly 2%.
The technology sector added to investors' concerns after two companies, Seagate Technology (STX) and Informatica (INFA), reported weaker-than-expected quarterly results. Shares of Informatica, which makes enterprise software for corporations, dropped 27%.
Other key technology companies traded lower on fears that slowing global growth could weigh down the entire sector. Shares of other enterprise data companies Teradata (TDC), Citrix (CTXS), and Autodesk (ADSK) also inked steep losses.
Meanwhile worries over the health of eurozone continue to bubble up. Spain is once again running into trouble as it attempts to borrow in the public debt markets. Yields on Spanish bonds hovered above 7%, a dangerous sign.
After a string of weak monthly jobs numbers and an unemployment rate unchanged at 8.2%, Friday's report will likely fuel arguments for increased intervention by the Federal Reserve.
Meanwhile, governments around the world have increasingly become dependent upon action by their central banks as the global fiscal crisis continues.
International Monetary Fund director Christine Lagarde said debt problems have spilled over borders. In a speech Friday in Japan, Lagarde said the IMF will revise down its next global forecast, due in 10 days.
"Over the past few months, the outlook has, regrettably, become more worrisome," she said.
U.S. stocks pared earlier losses and ended mixed Thursday, as investors grew hopeful that interest rate cuts from China and Europe, along with tepid U.S. economic data, could bring more meaningful central bank action.
Companies: Shares of engine maker Navistar (NAV, Fortune 500) plunged after the company said it would change its engine to meet U.S. pollution standards.
World markets: European stocks ended lower. Britain's FTSE 100 (UKX) slid 0.6%, the DAX (DAX) in Germany fell 1.9% and France's CAC 40 (CAC40) dropped 1.5%.
Asian markets finished mixed. The Shanghai Composite (SHCOMP) rose 1%, while the Hang Seng (HSI) in Hong Kong ended barely in the red and Japan's Nikkei (N225) fell about 0.7%.
Currencies and commodities: The dollar was flat against the euro and Japanese yen, but fell against the British pound.
Oil for August delivery fell $2.77 to $84.45 a barrel.
Gold futures for August delivery dropped $30.50 to $1,578.90 an ounce.
Bonds: The price on the benchmark 10-year U.S. Treasury rose, pushing the yield down to 1.56% from 1.60% late Thursday.