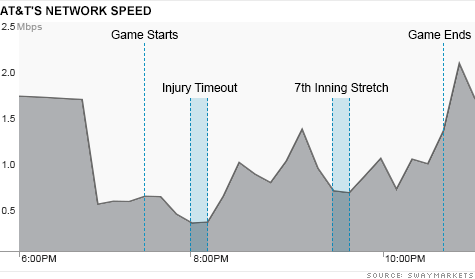 The story of a baseball game shows just how bad wireless service gets when thousands gather in one small spot.
NEW YORK (CNNMoney) -- Here's a story everyone can relate to: You're at a huge concert, you snap an awesome photo of the band, you try to post it to Facebook and ... nothing happens.
Or you're at a baseball game. You missed the last play because you dropped your hot dog, so you tap your baseball app and ... nothing happens.
What gives?
Put tens of thousands of people into a venue, all trying to connect to one single wireless cell site or a small handful of them, and the infrastructure quickly gets overwhelmed.
App maker SwayMarkets recently ran an experiment to illustrate just how dramatic the effect can be on one's wireless service.
The company's founders went to Fenway Park on May 31 to catch a Red Sox-Tigers baseball game, armed with iPhones on three different wireless phone networks: AT&T, Verizon and Sprint. Using SwayMarkets' CarrierCompare software, they constantly pinged the various providers' networks to measure their speed and response times.
The results were revealing. And very, very bad.
Sprint (S, Fortune 500) and especially Verizon (VZ, Fortune 500) became so overwhelmed that their wireless networks were practically unusable throughout most of the game. Verizon actually had several network failures during the game, meaning download requests simply weren't able to go through.
AT&T's (T, Fortune 500) network was the only one that worked from start to finish, but its performance was still dreadful. Download speeds during the baseball game dropped to a third of what they were just minutes before and after the game. Refreshing Twitter or Facebook, which took about 6 seconds before the game's start, took more than 20 seconds at the worst points and sometimes failed outright.
The SwayMarkets team warned against reading too much into the results about an individual wireless networks' capabilities. For example, if most attendees at the baseball game were Verizon subscribers, its network would be disproportionately crushed.
How it played out: Network performance on all three carriers fell through the floor as people filed into their seats just before the 7:10 p.m. start time. They were texting, calling, uploading photos to social networks -- everything you'd expect people to do when there's not much going on.
Then, as people got into the game, they used their phones less and service got progressively better. The Red Sox quickly took the lead in the second, and lost it in the third. (That's not surprising if you've been following the Sox this year).
In the bottom of the third inning, just after the Red Sox tied it up again, Tigers catcher Alex Avila took a foul tip off his facemask, knocking him out of the game.
During the extended injury timeout, people flocked to their phones, and service slowed to a crawl. The speeds on AT&T's network plummeted to less than half its gametime average. Verizon and Sprint's networks virtually crashed, with speeds sometimes falling below 100 kilobits per second. If you're older than 25, think about dial-up modem speeds. That'll give you an idea of how slow the wireless networks were.
As play resumed, network quality quickly bounced back from "dreadful" to "poor."
But when the seventh inning stretch hit, people went right back to their phones, and wireless service quality plunged. A pitching change one batter into the bottom of the seventh led to another short bout of degraded service.
Detroit scored another run in the top of the eighth, gaining a two-run edge over the Sox, and many of the Fenway faithful started to lose hope. As they filed out, service dramatically improved.
After the Tigers scored another two runs in the top of the ninth inning, taking a 7-3 lead and thoroughly dispiriting the remaining fans, service almost returned to normal.
The solution: With giant cell towers becoming overloaded, cell phone companies have begun to get behind the idea of "small cells": tiny antennas that can be strategically deployed in areas that need more coverage.
Carriers have been testing them out at some big events, such as last year's Super Bowl and the Consumer Electronics Show in Las Vegas. By placing small cells around an arena or throughout an event space, they can create more access points and reduce congestion.
Some cells even double as Wi-Fi hotspots, automatically switching customers to wireless networks to relieve cellular traffic jams.
Though they're still in their experimental phase, look for the tiny towers to pop up soon. Small cells will make up 90% of total cell tower deployments by 2015, Nomura analyst Stuart Jeffrey predicts.
For now, we'll just have to be patient and wait when 40,000 Red Sox fans all try to tweet "Fire Bobby Valentine" at once.