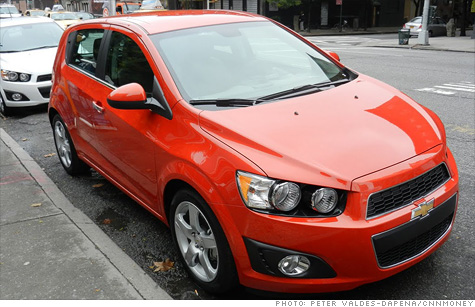 GM's offer of a 60-day guarantee and "no-haggle" pricing is good on all 2012 models including the the Chevrolet Sonic subcompact.
NEW YORK (CNNMoney) -- General Motors is offering a 60-day money back guarantee on all 2012 and 2013 Chevrolet models.
At the same time, 2012 model year cars are being marked down with new "no-haggle" prices that are significantly lower than their ordinary suggested retail prices, the automaker said.
"Research has shown customers respond positively to the confidence companies demonstrate with programs like this and appreciate the peace of mind that comes with knowing they have the option of being able to return their vehicle," said Chris Perry, Chevrolet global vice president of marketing.
GM is using this program to attract new customers to the brand, said GM spokeswoman Afaf Farah.
The automakers also wants to clear 2012 model year cars off dealers lots as factories begin producing 2013 models, according to industry analysts at the auto pricing Web site Truecar.com.
Both incentives are similar to programs GM has used before. In the fall of 2009, GM (GM, Fortune 500) offered 60-day money-back guarantees on vehicles from all four brands it now sells in the U.S., Chevrolet, Buick, GMC and Cadillac.
To be returned for a full refund, the car must be driven fewer than 4,000 miles and have suffered no damage.
The last time GM offered the money-back guarantee, fewer than 1% of buyers returned their cars, said Farah.
The no haggle-pricing program is also similar to the "Employee Pricing" programs GM has used in the past. That program proved be extremely popular with car shoppers.
By showing GM's confidence in its products, the guarantee offer should help Chevrolet's brand image especially in America's coastal cities where buyers tend to prefer Asian brands, said Jesse Toprak, an analyst with the Web site TrueCar.com.
The no-haggle pricing program probably won't be as popular as the GM's old "Employee Pricing" program, last offered in 2008, because the discounts aren't likely to be as deep, Toprak said. Even so, the program is likely to help Chevrolet sales over the next two months, he said.
Chevrolet sales were up almost 15% last month compared to June, 2011, while GM's overall sales were up 15.5%.
GM had been reducing the amount it spent on incentives recently, according to Truecar.com, but it still ranked second only to Chrysler Group in overall spending last month. Detroit automakers, including Ford Motor Co. (F, Fortune 500), still spend more than Asian or European automakers to lure buyers.