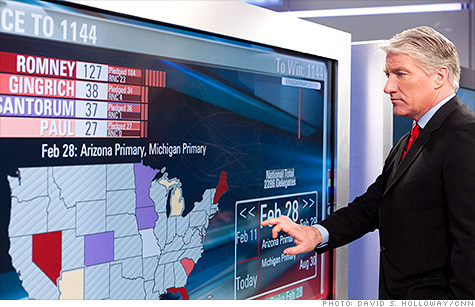 CNN's John King used the Magic Wall for his coverage of the Michigan and Arizona primaries this year.
NEW YORK (CNNMoney) -- Microsoft is adding a magic touch. Microsoft said Monday that it has agreed to buy Perceptive Pixel Inc., which makes large, multi-touch displays, including CNN's "Magic Wall."
The software giant plans to power these displays with Windows 8, slated for release in October. The financial terms of the deal were not disclosed.
Perceptive Pixel has been a familiar fixture on CNN shows since the Magic Wall's debut in the 2008 elections. Viewers have watched anchors like John King swipe and poke at the sprawling display to zoom in on data and graphics.
Microsoft already had similar technology in house: Its 2007 "Microsoft Surface" touchscreen technology, created for tabletops and retail displays, had comparable features. Microsoft recently hijacked -- or recycled -- the "Surface" name as the branding for its forthcoming tablet. Its earlier giant-screen Surface technology was renamed PixelSense.

MSNBC used the original Microsoft Surface for its 2008 election coverage, while ABC, Bloomberg, ESPN, Fox News and others joined CNN in adopting Perceptive Pixel screens. (MSNBC began as a joint venture between Microsoft and NBC, but in 2005 NBC bought back almost all of Microsoft's stake in the television channel.)
Microsoft plans add the interactive display to its Microsoft Office division "to build technologies that enable people to collaborate and communicate," Perceptive Pixel founder Jeff Han said in a written statement.
Microsoft (MSFT, Fortune 500) declined to go into detail about how it will handle the product overlap between Perceptive Pixel and the company's own PixelSense line.
"We believe these are complementary technologies and will unlock new opportunities," a company spokeswoman said.
Perceptive Pixel, a six-year-old company based in New York City, started working with CNN after running into CNN executives at a military trade show. Back in 2008, Han told CNN that his company's main clients are "three-letter agencies, classified work, a lot of secret stuff."