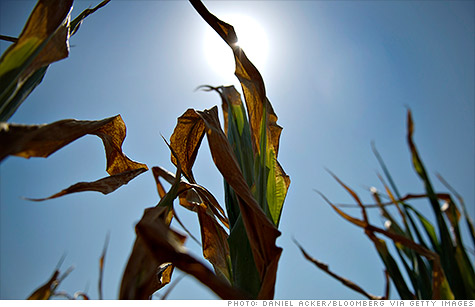 Corn yields fell 1.8 bushels in July, the USDA said, due to extreme heat and drought conditions. Prices continue to rise as a result.
NEW YORK (CNNMoney) -- Corn prices surged 4% Wednesday after a report from the U.S. Department of Agriculture showed production would fall 12% this month.
Corn prices have soared more than 40% in recent weeks as the drought and dry heat have wreaked havoc on crops in the Midwest. Prices reached as high as $7.48 per bushel of corn on the Chicago Board of Trade Wednesday morning, not far from the record high of $7.9975 hit last June.
Analysts don't expect to see much relief from current prices unless the weather improves. And Wednesday's glum report is just adding to the pessimism.
The USDA projected a shortfall of corn supplies that would reduce the yield for the 2012-2013 season by 20 bushels per acre. The USDA also cut its production forecast for July to 12.97 billion bushels, down from 14.79 billion bushels in June.
The USDA has said that just 40% of the nation's corn crops are in good or excellent condition, down from about 69% last year. In Iowa, the top U.S. corn producer, only 42% of corn crops are rated good to excellent, down from 62% a week earlier and 82% a year ago.
The government agency attributed the dour outlook to persistent and extreme dryness, along with heat that came earlier than normal this year.
"These numbers indicate severe damage to crops earlier than we saw last year, since dryer conditions and very high temperatures started in May," said Jerry Norton, chair of the Interagency Commodity Estimates Committees that prepares the monthly report. "It's a very unusual situation."
And one that's been playing out for three years in a row, according to Sal Gilbertie, chief investment officer of Teucrium Trading, which runs the Teucrium Corn ETF CORN (CORN).
"In modern history, this just doesn't happen, with genetic modification, tractors and other technology," he said. "The yield is supposed to be on a steady uptrend, so to have three years in a row of declining yields is extraordinary."
But Gilbertie said investors shouldn't panic.
"Anything north of a billion bushels is a comfortable number," he said. "We have room to see prices soften in the near term when the excitement of the report fades. But if we don't get any rain, there's serious upside potential for corn," Gilbertie said.
The USDA announced measures Wednesday to help farmers cope with severe weather and natural disaster. Agriculture Secretary Tom Vilsack said that the USDA would lower interest rates on emergency loans, provide greater flexibility for haying and grazing and simplify the process for disaster designations.
Fertilizer stocks rose Wednesday, as investors grew keen on the fact that better fertilizers will be needed to feed the ailing crops. Potash Corp (POT), Mosaic (MOS, Fortune 500), CF Industries Holdings (CF, Fortune 500), Bunge Limited (BG) and Intrepid Potash Inc (IPI) gained ground on the news.
Related ETFs, however, edged lower, with the grains ETF JJG (JJG) fell 2.3%, the corn ETF CORN (CORN) lost 3% and the wheat ETF WEAT (WEAT) dipped 2.5%.