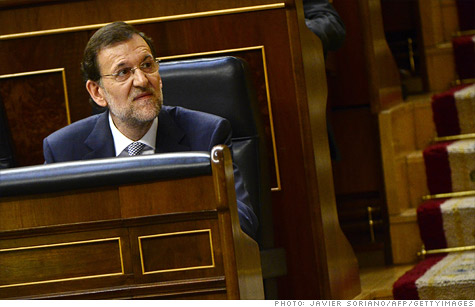 Spain's Prime Minister Mariano Rajoy announced a 65 billion euro austerity package during a Parliament session in Madrid.
NEW YORK (CNNMoney) -- Spanish Prime Minister Mariano Rajoy announced a new round of austerity measures Wednesday as his government struggles to meet deficit reduction targets mandated by the European Union.
In a speech to parliament, Rajoy said the country would cut €65 billion ($79.6 billion) in less than three years by reducing government bureaucracy and raising taxes. Meeting budget deficit reduction targets will require austerity and more efficiency, he said.
"We will significantly reduce the number of public institutions," Rajoy promised.
The package includes some deeply unpopular measures, including an increase in the Value Added Tax to 21% and a reduction in unemployment benefits.
The announcement came as Spanish miners and others marched on Madrid to protest, among other things, a 64% cut in subsidies for the mining industry.
The demonstration turned violent, with 76 people injured in clashes near the Industry Ministry, including 33 police and 43 protesters, according to the Madrid Ambulance Service.
The stepped up cost cutting comes after government data recently showed that Spain is on track to overshoot its deficit reduction target for this year, which stands at 5.3% of gross domestic product.
Eurozone finance ministers agreed earlier this week to give Spain another year to meet its targets, noting the nation's increasingly bleak economic situation. Spain has the highest unemployment rate in the euro area, at 25%, and its economy fell back into recession during the first quarter.
The Eurogroup of finance ministers also said they agreed on the broad conditions for a planned bailout of Spanish banks. The terms must be approved by the parliaments of individual euro area governments, but the ministers expect to disburse an initial installment of €30 billion by the end of the month.
Some of the measures announced Wednesday mark a significant reversal for the government, including the higher VAT rate, which Rajoy had promised not to raise.
"Rajoy is being forced to do many of the things he said he wouldn't do because of the current situation," said Antonio Barroso, an analyst at political research firm Eurasia Group. "The pressure is coming both from the markets and the requirements established by Brussels."
Yields for Spanish 10-year bonds, which have hovered around the perilous 7% level in recent weeks, fell to 6.67% Wednesday.
Investors are worried that Spain may be forced to seek a bailout similar to those taken by Greece, Portugal and Ireland. While the nation's debts are comparatively low, the fear is that the cost of bailing out Spanish banks, which could reach €100 billion, will ultimately fall on the government.
In addition to being politically unpopular, the additional austerity measures could harm the Spanish economy. Greece, which has been in recession for years, is a prime example of the challenges involved with cutting deficits during an economic downturn.
"I think you will be hard pressed to find an economist that thinks this is a good idea," said Hans-Joachim Voth, a professor of finance at Universitat Pompeu Fabra in Barcelona.
Spain already raised taxes this year, but the government has not collected any additional revenue "because the economy is collapsing," said Voth. "They're making the same mistake twice."
Rather than raising taxes on consumers, Voth said Spain could reduce its deficits by enforcing existing tax laws more efficiently.
"There are large parts of the economy that the government is unwilling or unable to tax," he said. "Avoiding taxes in Spain is very easy."
Investors are also concerned about the impact of austerity on the Spanish economy, said Nicholas Spiro, director of London-based consultancy Spiro Sovereign Strategy.
The latest measures "will only deepen and prolong what is already a severe recession," Spiro wrote in a note to clients. "In the eyes of most investors, not to mention Spaniards, the fiscal retrenchment is never-ending and potentially ruinous."
Eurasia Group's Barosso said steps to cut down on unnecessary layers of government could help reduce costs over time. But he acknowledged that those long-term benefits will be overshadowed by the short-term pain caused by the austerity measures.
"Cutting the deficit in recession is very difficult," said Barosso. "Eventually confidence will come back, but it will be very slow and very painful."
-- CNNMoney's Jose Pagliery and CNN's Al Goodman contributed to this report.