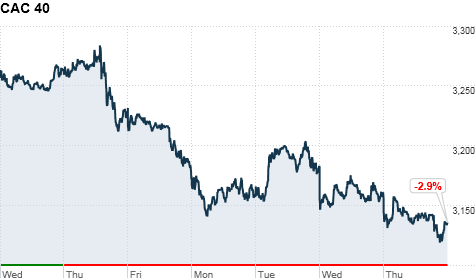 Click on chart to track markets
NEW YORK (CNNMoney) -- The Spanish government's abrupt plan to slash more spending did not go over well with overseas investors on Thursday.
London's FTSE (UKX) was down 1% at the close, the DAX (DAX) in Frankfurt was lower by 0.5% and the CAC 40 (CAC40) in Paris fell 0.7%. Spain's IBEX dropped 2.6%.
Spanish Prime Minister Mariano Rajoy announced a new round of austerity measures Wednesday in a speech to parliament, vowing to cut the country's costs by €65 billion, or about $80 billion, in less than three years. He pledged to do this by raising taxes and reducing government spending, requiring further austerity measures.
This was an unexpected move from the Spanish government. It had been saying there wouldn't be any need for austerity, but then suddenly "sprung all this new austerity on the Spanish public," said Tommy Molloy, chief dealer at FX Solutions in Saddle River, NJ
That prompted thousands of protestors -- including miners opposed to cutting of coal subsidies - to pour into the streets of Madrid, where they fought with armored police. Protestors flung rocks, while the police responded with clubs and rubber bullets. More than 70 people were injured, including riot 33 cops and 43 protesters, according to CNN.
Molloy said that Europeans were shocked by news footage of violent protests in Spain, a country haunted by high unemployment, particularly among its youth. He said the "sinister tone" of "blood on the street in Spain" reminds Europeans of similarly violent anti-austerity protests in Greece.
"To see Spain going down the same road as Greece was a cold shower for everyone," he said.
The violent street protests in Spain only add to the general feeling of uncertainty among European investors. Molloy said that investors are constantly worried about the possibility of new measures being handed down by European leaders, particularly Germany.
A German court is currently debating the future of Europe's bailout fund - a process that could take three months.
The Spanish contagion has spread throughout world markets. The Hang Seng (HSI) in Hong Kong was down 2% at the close, while Tokyo's Nikkei (N225) was lower by 1.5%. The Shanghai Composite (SHCOMP) was the exception, finishing up 0.5%.
On Wall Street, the Dow Jones industrial average (INDU), Nasdaq 500 (SPX) and Standard & Poor's (COMP) were all lower, as the pressure of investor anxiety outweighed the benefits of a better-than-expected jobless claims report.