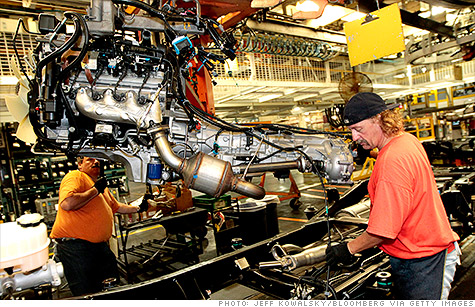 Every summer, auto factories shut down for a few weeks to retool their machinery -- a phenomenon that results in temporary layoffs. This year there were fewer layoffs than usual.
NEW YORK (CNNMoney) -- The number of Americans filing for first-time unemployment benefits plunged suddenly during the week that included the July 4th holiday.
About 350,000 people filed for initial jobless claims in the week ended July 7, down 26,000 from the previous week, the Labor Department said Thursday.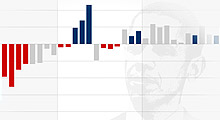 The U.S. lost 4.3 million jobs in President Obama's first 13 months in office. Track his progress since then.
The figure was a huge surprise, marking the lowest level of claims since March 2008. Economists had been expecting 375,000 claims last week.
Jobless claims are a closely watched economic indicator, correlated with layoffs, and when they fall, it's seen as a positive sign that the job market could be improving. In this case though, economists cautioned against breaking out the champagne.
"Don't get too excited. Seriously," said Jennifer Lee, senior economist with BMO Capital Markets.
Several factors may have made last week look better than it actually was. The July 4th holiday and fewer temporary layoffs at auto factories could have distorted the figures.
"This big drop in claims is almost certainly a reflection of seasonal adjustment problems caused by the annual shutdown in the auto sector," said Ian Shepherdson, chief U.S. economist with High Frequency Economics.
Every year, auto factories shut down to reconfigure their machinery to make the next year's models -- a phenomenon that typically happens in early July and results in temporary layoffs. The Labor Department tries to adjust for this factor but may have over-adjusted it last week.
Stronger auto sales have led factories to either shorten or cancel these shutdowns and make fewer of those furloughs.
Meanwhile, 3.3 million people filed for their second week of unemployment benefits or more in the week ended June 30, the most recent data available. That number was barely changed from the week before