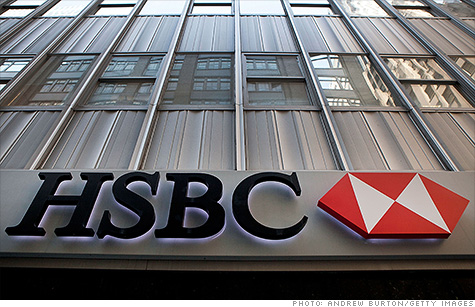 London-based HSBC is also being investigated as part of the Libor scandal.
NEW YORK (CNNMoney) -- Global banking giant HSBC will face scrutiny on Capitol Hill next week over its allegedly lax protections against money laundering by organized criminals and terrorist groups.
On Tuesday, the Senate's Permanent Subcommittee on Investigations plans to hold a hearing on the issue with representatives from HSBC (HBC) and the Office of the Comptroller of the Currency, the government's banking regulator. A report from the subcommittee is expected to be released ahead of Tuesday's hearing.
Senators plan to use HSBC as a case study in discussing "the money laundering and terrorist financing vulnerabilities created" when global banks deal with high-risk counterparties, the subcommittee said in a statement.
In an internal memo to staff ahead of the hearing, HSBC chief Stuart Gulliver said it was "right that we be held accountable and that we take responsibility for fixing what went wrong," the Financial Times reported.
"Between 2004 and 2010, our anti-money laundering controls should have been stronger and more effective, and we failed to spot and deal with unacceptable behaviour," Gulliver reportedly wrote.
An HSBC spokesman declined to comment on the memo, but said the bank "has been fully cooperating with the [Senate subcommittee] and regulatory authorities in the United States in relation to these issues."
It's not clear if or how much HSBC may be fined over its alleged lapses, though the Financial Times speculated that the bank could be on the hook for up to $1 billion, citing analyst estimates.
In its most recent annual report, HSBC said it was being investigated by the Justice Department, the Federal Reserve and the Comptroller of the Currency over its anti-money laundering procedures. The Justice Department did not return a request for comment.
HSBC isn't the first large bank to face scrutiny over money laundering issues from U.S. regulators and law enforcement.
Last month, Dutch bank ING agreed to pay a $619 million penalty for moving billions of dollars through the U.S. financial system at the behest of Cuban and Iranian clients, acts that violated economic sanctions.
In 2010, the former Wachovia Bank paid $160 million to resolve allegations that it lacked robust anti-money laundering measures, allowing Mexican cartels to launder millions of dollars worth of drug proceeds. Wells Fargo (WFC, Fortune 500) bought Wachovia in 2008.
HSBC is also cooperating with investigations into alleged manipulation of the London Interbank Offered Rate, or Libor, though it is not clear whether the bank will be singled out for punishment.
Last month, British bank Barclays (BCS) reached a $453 million settlement on the issue with U.S. and U.K. regulators, and firms including Deutsche Bank (DB), Credit Suisse (CS), Citigroup (C, Fortune 500) and JPMorgan (JPM, Fortune 500) are also being investigated.