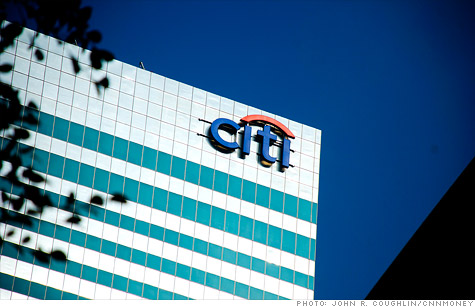 Citigroup is the third bank to report second quarter financial results.
NEW YORK (CNNMoney) -- Citigroup (C, Fortune 500) reported second-quarter earnings that topped forecasts even as revenue fell short of estimates.
The bank reported a 12% decline in net income to $2.9 billion, or 95 cents a share. Excluding items, earnings per share came in at $1. Analysts had expected Citi to earn 89 cents a share.
Citigroup's revenue came in at $18.6 billion in the second quarter, down 10% from the prior year and falling short of the $18.8 billion analysts had expected.
The bank attributed the drop in earnings to the ongoing winding down of Citi Holdings, created to hold the firm's "troubled assets." Citi Holdings' revenue dropped 62% from the prior year's quarter, while the rest of the bank's revenues were largely unchanged.
Citi's expenses also declined by 6% from the previous year's quarter to $12.1 billion.
"Our core businesses performed well in a difficult environment and are generating solid returns," CEO Vikram Pandit said in a statement.
Shares of Citigroup rose 0.8%.
Citigroup, often touted as the world's financial supermarket, experienced declines in all corners of the world except North America, where both revenue and profit rose.
Pandit said he expects to start seeing better growth from emerging markets, particularly in China.
"We feel better about Asian economies than we did a few months back," Pandit told analysts on a conference call. Central banks and politicians in China still have the ability to take action if the economy shows significant signs of slowing, Pandit said.
Loans were a bright spot for the bank, growing 10% in the second quarter to $527 billion. Citigroup said corporate loan growth was particularly strong in Latin America, while consumer loans drove growth in North American markets.
Citigroup also reduced its reserves for bad loans by $984 million in the second quarter, down 50% from the prior year.
Meanwhile, revenue from the bank's investment banking operations dropped during the second quarter. Revenue from Citi's equity and fixed income units declined 39% and 41%, respectively.
The declines illustrate just how much trading activity has fallen off. JPMorgan reported a similar, yet not as drastic fall-off last week.
When asked about the Libor rate-fixing scandal, Pandit said that investors should not infer that every bank is in the same or a similar position to Barclays (BCS).
Barclays recently inked a $452 million settlement with three regulators for its involvement in the manipulation of Libor rates, which are used as benchmarks for some $10 trillion in loans worldwide.
Analysts did not ask Pandit about the status of his $15 million pay package, which shareholders rejected earlier this year.
The bank has hired outside compensation consultants and is currently reviewing the CEO's pay, according to Citi spokesperson Shannon Bell, but there's hasn't been any guidance about what, if anything, the board plans to do.
Citi is the third big bank to report earnings. JPMorgan Chase (JPM, Fortune 500) and Wells Fargo (WFC, Fortune 500) both reported solid profits last Friday. And Goldman Sachs (GS, Fortune 500), Bank of America (BAC, Fortune 500) and Morgan Stanley (MS, Fortune 500) are on tap for this week.