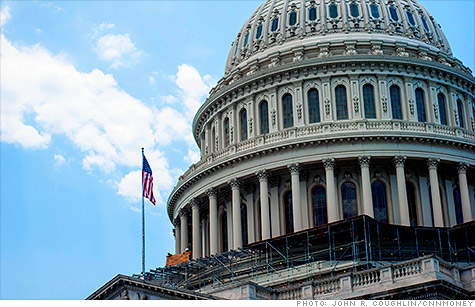 The International Monetary Fund urges Congress to seriously pull back on the fiscal cliff to protect the economy, and to address the debt ceiling quickly, without drama.
NEW YORK (CNNMoney) -- Hit the brakes on the fiscal cliff and hit the gas on raising the debt ceiling.
That was the message to Congress from the International Monetary Fund on Monday.
The IMF and others have often advised that the United States come up with a serious plan to reduce its debt over time.
But the so-called fiscal cliff - a series of expiring tax cuts and the onset of a record amount of spending cuts - would be anything but gradual when it comes to deficit reduction.
The fiscal cliff includes the expiration of the Bush tax cuts, the onset of $1 trillion in blunt spending cuts, and a reduction in Medicare doctors' pay.
If all the provisions go into effect, they would take more than $500 billion out of the economy in 2013 alone.
Such an abrupt shift risks pushing the economy into recession, according to many economists.
The mix of tax increases and spending cuts would slash the deficit in half - to 3.8% of gross domestic product, down from the 7.6% projected for this year. The IMF has recommended a slower course of deficit reduction, so that it drops by just 1 percentage point next year.
"A more modest retrenchment in 2013 ... would be a better option," the agency said.
The good news is that no one in Congress actually wants all the fiscal cliff measures to take effect. The bad news is that lawmakers cannot agree on more gradual debt-reduction measures to replace them. And the consensus is they won't seriously try to do so until after the November elections.
That is around the same time the country's debt load will near its legal limit of $16.394 trillion, requiring another increase in the debt ceiling to pay all the bills the government has incurred.
As last summer's debt ceiling showdown so vividly demonstrated, the vote to increase the country's borrowing limit can become a firestorm with very negative consequences for the economy and the United States' reputation.
So it's little surprise that the IMF urged lawmakers to do the right thing this time and raise the ceiling without any drama.
"Early action on the federal debt ceiling ... would mitigate risks of financial market disruptions and a loss in consumer and business confidence," the agency said.