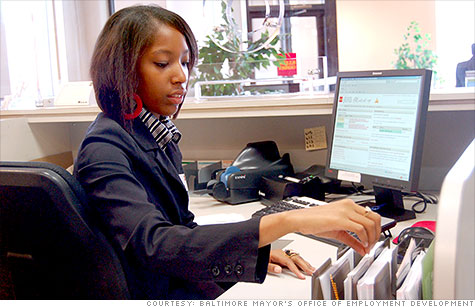 Amber Barner, a teller at Wells Fargo, benefits from Baltimore's summer jobs for youth program.
NEW YORK (CNNMoney) -- Faced with greater demand but dwindling dollars, cities are leaning more on local employers to hire teens.
Boston, Philadelphia and Baltimore are among the places that have put hundreds more young people in private-sector jobs for the summer thanks to aggressive lobbying by mayors and city officials.
But those efforts are still not meeting all the demand.
Public officials are mourning the loss of $1.2 billion in federal stimulus money for youth employment. Also, they're being deluged by youngsters, who are being squeezed out of retail and service jobs by unemployed adults.
Cities aren't simply asking companies to do the right thing. They're pitching the initiative as a way to identify and cultivate future employees.
"It's not being marketed as a social program, but as a workforce preparation opportunity," said Karen Sitnick, director of the Mayor's Office of Employment Development in Baltimore, which has placed 280 kids with companies this summer as part of the inaugural Hire One Youth campaign.
Developing future employees
Only one in four youth age 16 to 19 has a job these days, the lowest share since World War II. Among black youth, the number is as low as one in six.
This not only deprives them of pocket money, but also delays their exposure to the work world and to potential careers, experts said.
"They are not having the opportunity to develop their work ethic, portfolio and resumé," said Linda Harris, director of youth policy for CLASP, an advocacy group for low-income communities.
It also bodes badly for the next generation of the American workforce since teens are not getting the much-needed skills and experience to prepare them to hold down a job. Employers are already decrying the inability to find capable workers who have soft skills, such as punctuality and customer service.
Andrew Bertamini, Maryland regional president for Wells Fargo, started the Bankers Job Fair in Baltimore and began recruiting his peers. He sold it as a way for the companies to develop young talent and gain solid employees. Officials from six other banks joined Bertamini in interviewing 60 youngsters. At least 14 of them landed summer or part-time jobs.
Amber Barner was one of them. A sophomore at the Community College of Baltimore County, Barner had been involved in the city's YouthWorks program for six years. But after working in preschools and community centers, she wanted more exposure to a potential career.
"It's actually the real world, rather than just being a summer program," said Barner, 20, who is working as a teller and will continue at the bank when she returns to school.
The fact that it pays $11.50 an hour doesn't hurt either.
Mayors try the full-court press
Though they have long courted companies for donations for summer jobs programs, mayors are trying new tactics to get employers more directly involved.
In Boston, for instance, the mayor's jobs office held a kickoff event in January and asked employers who had participated to bring a peer who had not hired a youth.
"The best way [to recruit] is to hear a similar business to say they hired and it worked well," said Conny Doty, director of the Mayor's Office of Jobs and Community Services, which placed roughly 2,800 youth with companies this summer.
The city also created a website to attract more private-sector employers and provided descriptions of what the teens can do on the job. And it screens the applicants, sending only the most qualified to interview with the company.
Cities have to turn to the private sector because most can't afford to meet the demand with public funds.
When federal stimulus money was flowing freely in 2010, Philadelphia was able to place more than 11,000 youngsters in all types of summer jobs with its $8.5 million share. This year, its program can only handle half that number.
Initially, it looked like the city would only be able to place 4,800 teens, the lowest in 13 years. Mayor Michael Nutter then reached out to businesses to increase their participation in conjunction with the Philadelphia's Save Summer Jobs campaign.
Thomas Jefferson University doubled the number of youth it takes, adding slots for 10 at the Philadelphia-based university in addition to the 10 it has had at its hospital. Its department managers delight in having the teens on site since it allows them complete projects the staff don't have time to do, said Teri Manning, the university's manager of recruitment.
For the teens such as Martina Jean-Louis, working in the hospital gives them the chance to learn more about the medical field. Jean-Louis, 18, who recently graduated from a Philadelphia high school, wants to be a pharmacist.
Jean-Louis had heard about the summer jobs program before, but hadn't applied, landing her own job at a YMCA day camp. This year was different, however, because she learned she could get an internship.
'I was more interested because there was more opportunity to work in my career," said Jean-Louis.