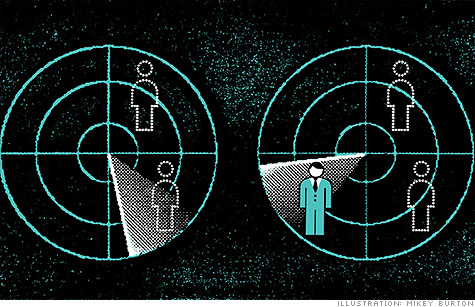 To be considered for a big job promotion, you have to impress not just your boss but also his or her boss.
(MONEY Magazine) -- Once upon a time, you climbed the corporate ladder, rung by rung, through working hard and earning your supervisor's favor. In today's leaner companies, though, it's a lot tougher to get those steps up.
And if the jump you're seeking is from middle management to top brass, you'll need more than a thumbs-up from your boss; you'll need support in upper management.
"The new currency at work is influence," says Lauren Still, president of Career Evolution Group in Denver.
Finding ways to increase your exposure without irritating your direct manager or seeming like a self-promoter can help you break out of mid-career inertia.
Make their priorities yours
Before attending a meeting at which higher-ups will be present, peruse the agenda and prepare a related idea.
"Do your homework, so you'll have something smart to contribute," says New York City executive coach Andrea Nierenberg.
For instance, if the meeting is about struggles to attract younger customers, you could present data showing how ads on certain mobile apps have reached that audience for other businesses.
Be ahead of the trends
Look for a new technology or social media platform that will keep your firm ahead of its rivals, and get your boss' okay to bring in a consultant to teach your team to use it, suggests Shannon Wilkinson, president of Reputation Communications, a New York City reputation-management firm.
Invite C-suite members, so that they'll start connecting you with innovation. After the program, volunteer to lead a group to put the technology in place and report periodically to higher-ups on the results.
Script small talk
Make the most of casual encounters with execs, including unexpected elevator rides.
"Have something to say beyond pleasantries," advises Elene Cafasso, a Chicago area executive coach.
For instance, if the head of the company will be joining you to entertain clients at a baseball game, show up early and, after a brief chat about the White Sox, mention the selling points you've conveyed to the clients, in case the big boss wants to reinforce them.
Also, slip in a one-liner that speaks to your successes: "By the way, our sales numbers are really improving. We're up 20% over last quarter."
Step up for key committees
Many firms convene cross-department panels to address business challenges. They can be a great way to put your visibility on steroids, particularly when they're on issues that are priorities for upper management, according to Silver Spring, Md., career coach Cheryl Palmer. Volunteer, and take a key role.
That way, your name will be front and center when the report lands on the CEO's desk.