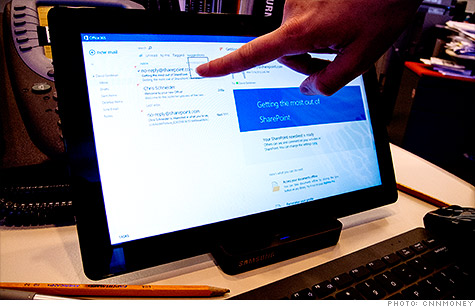 Office 13 will be the first Microsoft Office built for touchscreens -- but it's not a smooth experience yet.
NEW YORK (CNNMoney) -- Every time Microsoft shows off a new version of Office, a handful of badly needed new features make millions of faithful Office users scream out, "Finally!"
Office 2013 is no exception. The latest update to the world's most-used productivity software suite -- a preview version of which Microsoft (MSFT, Fortune 500) unveiled on Monday -- includes a batch of long-awaited tweaks. It's also got a flashy new addition: touch.
Sort of. We'll get to that.
First, the good stuff. Word is getting the longest list of updates, and the biggest addition is the most welcome: Users can open, edit and create PDF documents in Word 2013. Finally!
The new software also features an improved ability to manipulate images and videos. Word 2013 displays nifty green alignment guides that light up when you place an image in the center, top or bottom of a document or paragraph. Move an image or video around and the text will automatically move out of the way or cleverly wrap around it.
Excel users will be pleased that graphs and color coding can be instantly previewed with a "quick analysis" button. It works surprisingly well, and it saves the hassle of building graphs yourself.
The coolest new feature, called "flash fill," automatically fills in columns when it's obvious what list you're typing. It's hard to explain without seeing it, so click here to view an example.
PowerPoint's best addition is "presenter view." Ever had a meeting where someone asks a question pertinent to a slide that hasn't been shown yet? Today, the presenter has to exit the slide show, jump to that slide, and then re-enter the show. PowerPoint 2013 makes that transition seamless: The presenter can just click "see all slides" and jump ahead without hitting an arrow key a dozen times.
The design of Office got a nice refresh too, matching the cleaner "Metro" user interface of Microsoft's upcoming Windows 8.
Which takes us to the software's most dramatic change -- and its biggest pain point.
Office 2013 will debut on Windows 8, the new Microsoft PC operating system that is redesigned throughout with touch capabilities. It's intended to flex smoothly between traditional computers and mobile devices. Want a full-featured version of Word and Excel on a tablet? That's what Microsoft is aiming at.
"We've really thought through this new version of Office with Windows 8 in mind," Microsoft CEO Steve Ballmer said on Monday at Office 2013's unveiling in San Francisco. "That means supporting touch."
Touch is front-and-center in Windows 8, but in Office, it seems to have been integrated as an afterthought.
I tested Office 2013 on a Samsung Series 7 tablet computer running a preview version of Windows 8. I ended up using Office away from the tablet's wireless keyboard and mouse more frequently than I expected: I checked e-mails on the couch through Outlook, tried showing off PowerPoint presentations on my TV, and took some quick notes in OneNote.
Some tasks were easy, such as dragging, scrolling and resizing. Others didn't work with touch at all.
The biggest adventure turned out to be printing a Word document. The print button was actually made larger in Office 2013, but not the two tiny menu buttons you have to push to get to the "print" screen.
It's easier to simply pull up the on-screen keyboard and hit Ctrl-P, but that triggers fresh challenges. Touching the microscopic "up" button to increase the number of copies takes a level of dexterity known only to surgeons and violin players.
When I hit a paper jam, I gave up and just printed the document from a laptop.
Overall, Office 2013 will make users of older versions happier. But for tablet users, all those nice new features may not outshine the added aggravation of managing touch with Office.