NEW YORK (CNNMoney) -- Next week in London, athletes from around the world will go for the gold. But as it turns out, the Olympic gold medal is mostly made of silver.
Weighing in at 412 grams -- or roughly the weight of a can of green beans -- the gold medal is made up of only 1.34%, or about 6 grams of gold.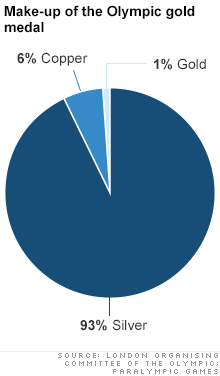 The rest is comprised of 93% silver and 6% copper.
Melted down and sold at today's market value, those raw materials would be worth about $650.
In comparison, the silver medal -- made up of 93% silver and 7% copper --- would be worth about $335. The bronze medal, mostly made of copper, would be worth less than $5.
The Olympic games have not handed out solid gold medals since the 1912 summer games in Stockholm, Sweden.
The 2012 Olympic medals were made from nearly nine tons of metal from Rio Tinto's Kennecott Utah Copper mine in Salt Lake City and its Oyu Tolgoi mine in Mongolia.
British artist David Watkins created this year's design on the front of the medal. The back depicts Nike, the Greek Goddess of Victory stepping out of the Parthenon.
The Royal Mint in South Wales pressed the medals in a 10-hour process that requires a 1,400°F furnace and nearly 1,000 tons of weight on a special press.
The 2,300 Olympic medals are currently being guarded at the Tower of London until the games begin, July 27.
Medals up for auction
Of course a medal has more symbolic value to the Olympic champions and their fans. Resales are rare, but when they do happen, one can command exponentially more than its makeup.
A gold medal worn by Mark Wells, a member of the 1980 "Miracle on Ice" U.S. men's hockey team, garnered $310,700 at auction two years ago.
Swimmer Anthony Ervin, a medalist in 2000, auctioned his gold to raise $17,000 for victims of the Indian Ocean tsunami in 2004. And a medal worn by Ken Spain, a member of the 1968 U.S. Basketball team sold for $26,000 last year.
Not all medals are an easy sell though.
Track and field star Tommie Smith, made famous when he raised his fist in a black power salute at the 1968 Olympic Games, was hit by a media backlash when he put his gold medal up for auction in 2010.
He still has the medal, after no one met the minimum $250,000 bid.