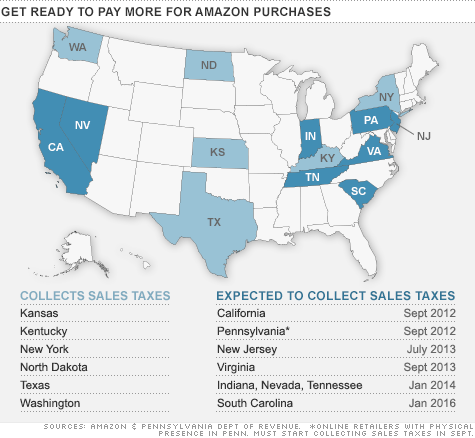 NEW YORK (CNNMoney) -- Attention Amazon shoppers: Be prepared to pay more when you purchase goods, depending on where you live.
The online retail giant will start charging sales tax in eight additional states in coming years, starting with California and Pennsylvania in September, as it puts down physical roots in more places. Amazon already collects sales tax in six states.
That means many customers will have to dig a little deeper into their pockets when buying on the Internet, which some people see as a refuge from sales taxes.
California residents, for instance, might have to pay as much as $9.75 in additional levies on a $100 purchase, depending on where they live in the state. Customers in Philadelphia, meanwhile, would find an additional $8 tax on their bill.
Collecting sales taxes is a turnaround for Amazon (AMZN, Fortune 500), which had long fought states' attempts to force e-tailers to deal with such levies. States estimate they lose $23 billion in annual sales taxes, some $11.5 billion of it from online purchases, according to the National Conference of State Legislatures.
Brick-and-mortar retailers have also pushed hard to have Amazon and other web merchants collect sales taxes, which the physical stores say level the playing field.
Amazon instead sought to have Congress settle the issue. It is backing the Marketplace Fairness Act, which would allow states to collect sales tax from out-of-state businesses.
"Amazon believes the sales tax issue needs to be resolved at the federal level and we're actively working with the states, retailers and Congress to get federal legislation passed," said Scott Stanzel, an Amazon spokesman.
Other online merchants, however, oppose the legislation. The consortium, called NetChoice, includes Yahoo (YHOO, Fortune 500), AOL (AOL), Facebook (FB), Oracle (ORCL, Fortune 500), Overstock.com (OSTK), NewsCorp (NWS), IAC (IACI), Expedia (EXPE) and eBay (EBAY, Fortune 500).
Amazon is also expanding its physical presence across the United States, building warehouses and distribution centers. The company is looking to offer same-day delivery to more customers, according to a report in the Financial Times. Amazon declined to comment on the matter.
In exchange for bringing thousands of jobs to various states, the company is negotiating delays in collecting sales tax in those locations unless federal legislation is enacted sooner.
California, for instance, agreed last fall to push back the requirement that Amazon collect tax until Sept. 15. In exchange, the company agreed to create at least 10,000 full-time jobs and hire 25,000 seasonal employees in the Golden State by the end of 2015.
Similar deals exist around the country.
In New Jersey, Amazon will build two distribution centers -- hiring more than 1,500 full-time employees and thousands of temporary and construction workers -- in exchange for not collecting sales tax until July 2013.
Tennessee, meanwhile, will receive $350 million in capital investment and see 3,500 full-time jobs created. Amazon will not begin to collect sales taxes there until January 2014.
And Amazon just began collecting sales taxes in Texas this month, settling a spat that began in 2010 when the state sent Amazon a bill for $269 million in uncollected taxes, including interest and penalties.
The company will also create at least 2,500 jobs in Texas over the next four years.
Will you stop shopping at Amazon if you have to pay sales tax? Is this issue important to you? Tell us what you think at realstories@cnnmoney.com and you could be profiled in an upcoming story. Please include a contact phone number.