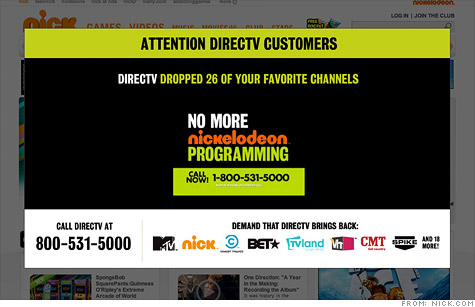 Viacom -- which owns Nick, MTV and other properties -- says its talks with DirecTV are at an impasse.
NEW YORK (CNNMoney) -- More than one week into their cable blackout, the standoff between Viacom and DirecTV isn't showing any signs of thawing. The two sides are at an impasse, according to a scathing blog post Viacom fired off on Wednesday.
"It's now clear that they have no intention of working with us to expedite a resolution," Viacom wrote about the discussions. "DirecTV has moved backwards significantly and created more obstacles to reaching an agreement."
DirecTV (DTV, Fortune 500) has a different take. It says Viacom's statement is "completely inaccurate" and that it has already offered to increase the fees it pays Viacom for its programming.
"They made a proposal last night for our carriage of the 17 channels they pulled from DirecTV and we accepted all material terms for those channels including an increase that was more than fair," DirecTV wrote Wednesday on its website dedicated to the dispute. "We are ready to close this deal at anytime and restore those channels to our customers."
So what's the holdup?
DirecTV claims Viacom (VIA) is trying to jam additional channels into the new contract.
"Viacom insists that we carry the EPIX channel at an additional cost of more than half a billion dollars," the company wrote. "We know our customers don't want to pay such an extreme price for an extra channel, they simply want the ones they had returned to them. "
Viacom called that statement "one more complete work of fiction" and said it has offered a variety of proposals, both with and without EPIX.
"DIRECTV did not accept all material terms for our channels, nor are we asking for a sum of $500 million for EPIX," Viacom said in its rebuttal.
The ongoing fight -- now on its eighth day -- has forced 20 million DirecTV customers to go without more than a dozen channels, including MTV, Nick and Comedy Central.
Providers like DirecTV pay content creators such as Viacom a fee to carry their networks. When those deals come up for renewal, tense spats and TV blackouts are common while the two companies bicker over terms.
In this case, Viacom is seeking what DirecTV says is a 30% fee increase. Viacom counters that the hike it's after is just "a couple of pennies per day per subscriber."
They're both right: Nomura analyst Michael Nathanson, who is tracking the dispute, estimates that DirecTV is currently paying Viacom a fee of around $2.25 per subscriber per month. That's significantly less than the $3 per month average fee Viacom collects from its other distributors, he believes.
The fight has sparked an acrimonious war of words between the two sides, with Viacom urging DirecTV customers to jump ship to another provider and DirecTV promising its customers that a deal will eventually get done. The Daily Show's Jon Stewart -- whose Comedy Central show is affected by the blackout -- recently blasted both companies for treating their fee battle like "some kind of basic cable Arab Spring."