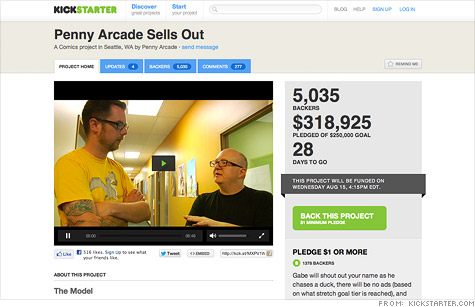 Penny Arcade launched a Kickstarter campaign to remove ads from its website for all of 2013.
NEW YORK (CNNMoney) -- How much would you pay to skip the ads on your favorite websites? A hit online comic strip is using Kickstarter to find out.
Penny Arcade, an online comic about video games and geek culture, launched a crowdfunding campaign to remove ads from its website for all of 2013.
More than 5,000 fans have already pledged cash, pushing the company past its initial goal of raising $250,000 -- a milestone that took just five days to reach. That sum will cover the cost of removing the ad at the top of the homepage for all of next year.
If Penny Arcade manages to raise $999,999 by mid-August, it will take down all advertisements throughout the website.
The campaign is an experiment in alternate funding models for indie content. As Penny Arcade puts it on the Kickstarter page: "Not having ads would create a chain reaction that would lead to a bunch of other interesting stuff. Without the almighty 'pageview' to consider, why not populate the RSS with full comics and posts? Why not enable and even encourage apps, first and third party, for people to read it however they damn well please?
Penny Arcade co-founder and artist Mike Krahulik said the team wants to go ad-free so it can dedicate more time to creating content. The company often makes promotional comics for gaming companies, which "takes up a huge chunk of time," he said.
"It's not just about losing advertising," Krahulik told CNNMoney. "It's about what not being tied to that model means for our company and the amount of work we could do for [our readers] instead of our publishers."
Founded by Krahulik and writer Jerry Holkins in 1998, Penny Arcade originally supported itself with donations.
"We felt like we were working directly for our fans," Krahulik said.
But then the Seattle-based company grew. It now has 14 employees and produces three comics a week for 3.5 million readers. Krahulik and Holkins figured they couldn't sustain that level of overhead without advertising -- until Kickstarter came along and got them wondering.
"We've been talking about [going back] for a long time, but we thought we could probably not do that again," Krahulik said. "With the advent of Kickstarter and crowdfunding, it was worth a try."
The end-goal of $999,999 is actually less than what the company makes in ad revenue annually. But the company also earns money through events and products, including games and merchandise -- all revenue streams it would maintain.
Some advertisers even seem to support the campaign, Krahulik said. At Comic Con in San Diego last week, he talked with several who were excited about the project.
"The reality is that a lot of people are fans of Penny Arcade first," he said. "That's why they come to us to advertise."
Not all the fans are on board, though. On the Kickstarter project page, reader Justin Scott weighed in: "I don't mind the ads. In fact, a lot of the stuff in the ads is cool."