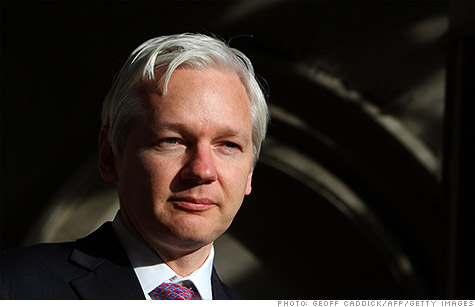 WikiLeaks leader Julian Assange urged followers to donate via a newly discovered loophole.
NEW YORK (CNNMoney) -- Nearly out of cash, WikiLeaks announced Wednesday that it has found a loophole that will allow it to circumvent a donations blockade imposed by Visa and MasterCard.
The infamous secrets-leaking organization will begin processing donations through a French credit card system, Carte Bleue. WikiLeaks claims Visa (V, Fortune 500) and MasterCard (MA, Fortune 500) "are contractually barred" from cutting off Carte Bleue payments.
But WikiLeaks also noted that the loophole may not last: "WikiLeaks advises all global supporters to make use of this avenue immediately before Visa/MasterCard attempts to shut it down," the organization said in a statement.
Calls to Visa and MasterCard were not immediately returned.
Visa and MasterCard were among a handful of U.S. firms, under government pressure, to cut off their processing of WikiLeaks donations soon after the site began publishing State Department cables at the end of 2010.
That had a disastrous impact on the organization's financial stability. The group's funds have dwindled from more than $980,000 in December 2010 to about $120,000 at the end of June this year, according to the site. It claims that it will run out of money "within a few months" if it does not receive more donations.
WikiLeaks says that the credit card blockade has prevented more than 95% of its donations from going through. The organization estimates that has lost out on more than $20 million.
Last year, it spent more than $325,000 on campaigns, which included publishing new materials like the Guantanamo Files. WikiLeaks also paid more than $120,000 to cover infrastructure costs, including office space, servers and software.
With all the controversy surrounding the project, WikiLeaks used more than $88,000 of its expenses for legal advice.
The website recently won a small battle in Iceland, where a judge ruled that Valitor -- a local partner of Visa and MasterCard -- must process WikiLeaks donations.
If there is another blockade in France, the organization is ready for a fight.
"We beat them in Iceland and, by God, we'll beat them in France as well," WikiLeaks founder Julian Assange said in a written statement. "Let them shut it down. Let them demonstrate to the world once again their corrupt pandering to Washington."