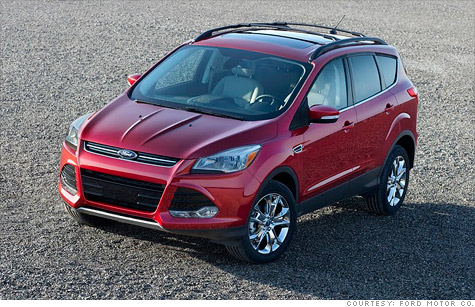 The redesigned 2013 has been a critical and sales success for Ford, but there have already been two recalls on it.
NEW YORK (CNNMoney) -- Ford is recalling 11,500 of its new 2013 Escape SUVs because a defect in the fuel line could cause a fire. The automaker is telling owners to stop driving the vehicles until the problem is repaired.
A weak point in the SUV's fuel line can crack allowing fuel to leak out. So far, only three fires have been reported, Ford said, two of which took place at the factory. One happened to a customer-owned vehicle in Canada.
No injuries have been reported as a result of the problem, according to Ford.
The recall involves new Escapes equipped with 1.6 liter turbocharged engines. The new Escape is available with three different engine options and the 1.6-liter is, generally speaking, the mid-level offering.
"Our intensive investigation and testing has identified the area of concern and we are moving as quickly as possible to repair vehicles for our customers," Ray Nevi, Ford's assistant director for auto safety said in a statement. "In the meantime, it is extremely important that affected customers not ignore this recall and immediately contact their dealer."
Ford dealers will provide loaner vehicles to Escape owners while the problem is being fixed, Ford (F, Fortune 500) said in a statement. Dealers will also transport the vehicles to the dealership themselves. The repair should take less than hour, provided parts are available, Ford said.
This is the second recall of the new Escape which only recently went into production. The first had to do with improperly installed carpeting that could interfere with the driver's use of the brake pedal.