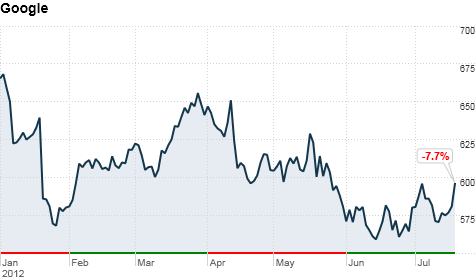 Click chart to see more information about Google's stock.
NEW YORK (CNNMoney) -- Online advertisers keep paying Google less for its ads, but so far, Google has proven it can out-sell the problem.
The world's online search leader said its net income in the second quarter rose to $2.8 billion, up 11% from a year earlier.
Google's profit rose more than expected as the number of clicks on the company's ads increased, but the amount that advertising partners pay per click continued to drop dramatically, falling 16% compared to last year.
That's a problem that has plagued Google for several quarters.
Currency fluctuations played a role in the drop, Google said. When Wall Street analysts noted on a conference call that the falling cost-per-click rates are a recurring challenge, Google Chief Financial Officer Patrick Pichette chalked it up to advertisers trying to figure out the value of mobile advertisements.
Google's costs soared as the company ramped up its hiring and spending spree -- particularly after its purchase of Motorola, which was completed in May. The search giant's headcount exploded to nearly 55,000, up 65% from the previous quarter, thanks to the more than 20,000 Motorola employees it added.
Google hinted that it may lay off a number of Motorola staffers.
"Everyone should expect changes at Motorola," Pichette said on the call. He declined to go into details, noting that "we just got into the place."
Google upped its non-Motorola headcount by 4%, and the company spent a whopping $774 million to support its massive data centers. The company said it expects to continue to make "significant" capital expenditures going forward.
Sales for the Mountain View, Calif.-based company rose 35% to $12.2 billion.
In their forecasts, Wall Street analysts excluded Motorola's revenue as well as the advertising sales that Google shares with partners, a figure also known as traffic acquisition costs. Without those sales, the company reported revenue of $8.4 billion, which were roughly in-line with a median forecast of analysts polled by Thomson Reuters.
Google's profit results included $560 million in one-time charges related primarily to the company's purchase of Motorola Mobility, which was completed in May. Without the charges, Google said it earned $10.12 per share. Wall Street analysts, who typically exclude one-time items from their estimates, had forecast earnings of $10.04 per share.
Shares of Google (GOOG, Fortune 500) rose 3% after hours.