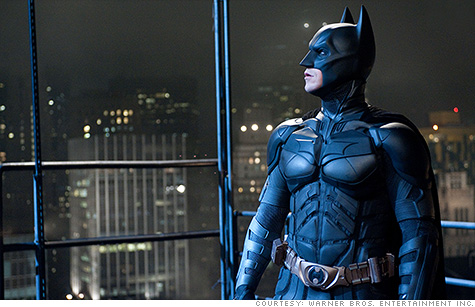 Experts are expecting opening weekend domestic ticket sales for the "The Dark Knight Rises" to top $170 million.
NEW YORK (CNNMoney) -- By the time "The Dark Knight Rises" hits movie screens Friday, it will likely already have sold more tickets than most movies do in their entire run.
That's because the much-anticipated, much-hyped final film in the Batman trilogy is achieving strong advance box office sales.
It is unclear what impact there will be, if any, on sales following the shooting at a Colorado theater early Friday morning showing "The Dark Knight Rises."
Tickets went on sale June 11, and opening weekend shows have been top sellers on online ticket sites ever since.
So many prime showings this weekend are already sold out that eBay has some tickets going for as much as $200 apiece.
Fandango, a leading ticket site, reported Thursday that advance ticket sales had sold out more than 2,000 opening weekend showings and were outpacing early sales for the record-setting opening of "The Avengers" earlier this year.
And Fandango and MovieTickets.com both said that about 90% of their sales were for "The Dark Knight Rises."
Projected domestic opening weekend box office numbers for the Warner Bros. film range from about $170 million to as high as $214 million. The latter would be enough to edge out the record opening for "The Avengers," which pulled in $207.4 million in domestic box office for Walt Disney (DIS, Fortune 500) in May.
Some analysts don't see "Dark Knight" breaking that record. They point to the lack of a 3D version, for which moviegoers pay a premium. Also, the darker story line could keep some younger movie goers away.
But the box office is expected to be a big win for Warner Bros. and its owner, Time Warner (TWX, Fortune 500), which also owns CNNMoney.
"Any result over $150 million is box office stratosphere," said Paul Dergarabedian, box office analyst for Hollywood.com. "I think we're looking at another billion-dollar movie worldwide before all is said and done."
Advance sale information can also help theater owners to maximize ticket sales, allowing them to schedule additional showings or move films into larger rooms to meet demand.
"Digital projection gives us more flexibility in the number of shows we can offer as demand continues to rise," said Ryan Noonan, spokesman for theater operator AMC Entertainment.
And buying in advance assures theater goers they'll be able to see their first-choice film.
"If it guarantees a seat, it takes some of the stress out of date night," said Harry Medved, Fandango spokesman. "Advance ticketing is becoming a habit."