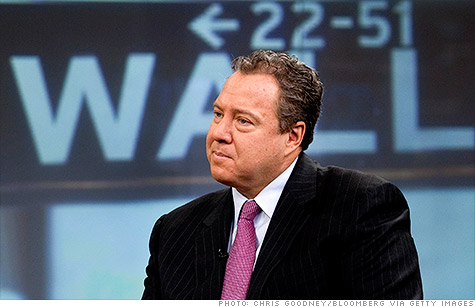 Robert Wolf, a prominent Obama fundraiser, is out at UBS.
NEW YORK (CNNMoney) -- One of President Obama's most prominent Wall Street backers is leaving banking giant UBS to start his own advisory firm.
The departure of Robert Wolf, who most recently held the post of chairman for UBS Americas, was announced by the bank's management in an internal memo.
An early and enthusiastic supporter of Obama, Wolf is frequently spotted on the golf course with the president. In a more official capacity, Wolf serves as a member of the president's jobs council.
The UBS (UBS) veteran is also one of Obama's most effective fundraisers, and works as a so-called bundler for the campaign. Bundlers are expected to raise in excess of $500,000 each for the president's re-election effort.
Wolf's continued enthusiasm comes as Wall Street, which piled money into Obama's 2008 campaign, has devoted a majority of its fundraising dollars this cycle to Mitt Romney.
(Related: Wall Street ditches Obama, backs Romney)
Wolf's high-profile and very public relationship with the president reportedly irked others at UBS.
In June, the New York Times reported that the bank's management had moved to limit Wolf's interaction with the media by directing all interview requests through the firm's press office.
Wolf weathered Obama's occasional jabs at the industry with aplomb.
For example, after the president attacked "fat cat bankers on Wall Street" early in his presidency, Wolf answered the president's charge with a self-deprecating response.
"I said 'Mr. President, I know you think I'm overweight, but I can think of better names to call me,'" Wolf told the Wall Street Journal. "He laughed."
An accomplished banker, Wolf held various positions over his 18-year career at UBS. He came to the bank from Salomon Brothers, where he spent a decade in fixed income trading and sales.
Wolf's new firm will be called 32 Advisors -- a nod to the uniform number he wore while playing college football at the University of Pennsylvania.
Wolf will continue to do some work at UBS, and will hold the title of senior adviser, according to an internal memo provided by the bank.