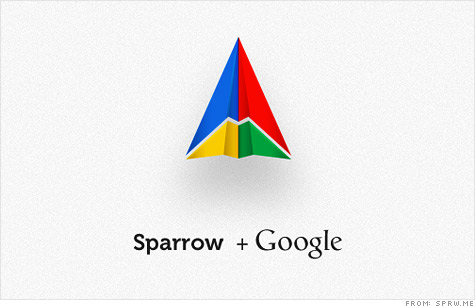 Sparrow, a third-party email client, announced Friday it was acquired by Google.
NEW YORK (CNNMoney) -- With $43 billion of cash in its coffers, Google can afford to spend millions on companies just to mine them for talent.
Google (GOOG, Fortune 500) struck again on Friday, buying popular iPhone and Macintosh e-mail app Sparrow. But Google has no interest in the company itself.
A spokeswoman for the search giant said Google will keep Sparrow up and running, and it will continue to support the application. But the company doesn't plan to offer any significant Sparrow updates in the future.
In their new roles at Google, Sparrow's five employees will work on "new projects" for Gmail.
If Sparrow's team has any hard feelings about ending work on its creation, it didn't say so.
The company has worked to enhance the "mailing experience," Sparrow CEO Dom Leca wrote in a blog post. "Now we're joining the Gmail team to accomplish a bigger vision -- one that we think we can better achieve with Google."
The financial terms of the deal were not disclosed. The Verge cited sources that said the purchase price was "under $25 million."
It's a familiar story, and one that isn't a great omen for Sparrow's future.
Google last month acquired social advertising service Meebo for a reported $100 million. Google said it would shift all Meebo employees to its Google+ social network.
In 2010, Google bought social search company Aardvark for $50 million. The Aardvark employees were shifted to development of Google+. Google never updated the application, and it shut down Aardvark in September 2011.
The most famous example was Google's 2005 purchase of location-based service Dodgeball. The company's founders quit in 2007 after Google failed to support the service.
"The whole experience was incredibly frustrating for us -- especially as we couldn't convince them that Dodgeball was worth engineering resources, leaving us to watch as other startups got to innovate in the mobile + social space," wrote founder Dennis Crowley on Flickr.
Crowley landed on his feet, though. He founded a new location-based company with another playground-themed name you may have heard of: Foursquare.
But Google isn't the only one guilty of these "aqui-hires."
Acrylic Software announced Friday it was acquired by Facebook. Dustin MacDonald, founder of the Vancouver-based company behind apps like Pulp and Wallet, wrote that though the team is set to move to Silicon Valley, "our products and services have not been acquired."
This is just the latest in a string of hires and shutdowns. Earlier this month, Facebook acquired the talent behind startup Spool. The same day it announced the acquisition, the company released a blog post, titled "Spool has shut down - stay tuned for more."