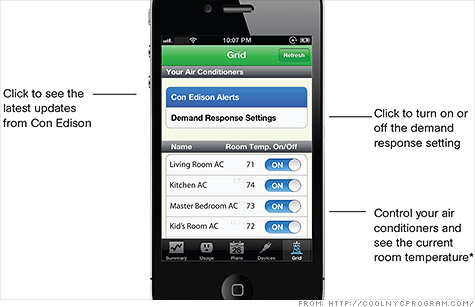 CoolNYC allows users to control their air conditioner units from a smartphone app.
NEW YORK (CNNMoney) -- In this record hot summer, it can be difficult to stay cool while keeping green. Now there's a way for New Yorkers to do both, right from their phones.
CoolNYC, an energy-monitoring initiative from New York electric utility Con Edison (ED, Fortune 500) and startup ThinkEco, is helping thousands of Big Apple residents control their window air conditioners through smartphone apps and the Web.
"The idea of CoolNYC is to bring this technology to everybody so that people can be smart about the way they use their window air conditioners and save energy by doing so," said Mei Shibata, co-founder of New York-based ThinkEco.
The program is giving away and selling 10,000 "smart plugs" this summer. About three quarters of the devices will be doled out for free to residents of large apartment buildings throughout New York, and the rest will be put on sale at some New York Best Buy (BBY, Fortune 500) stores for $70. (A $25 rebate is available.)
Here's how it works: Users plug their window air conditioners into the smart plug, which controls the flow of electricity to the a/c and wirelessly connects to the Internet.
The device's on-board thermostat allows users to remotely set a temperature for their apartment. When the room falls below that temperature, the smart plug shuts the air off, then turns the unit back on if it gets too hot.
The initiative was set up is to prevent air conditioners from running all day -- a common practice during these sweltering months.
With the smart plugs, Con Ed customers can remotely turn their a/c units off from work if they accidentally left them on in the morning. They can also turn their air on a few minutes before returning home.
By going online or in the app, users can also see just how much energy their air conditioner units use and how much they can save by adjusting their usage. An optional setting encourages users to help conserve the city's power during the busiest hours by raising their temperature by a degree or two.
CoolNYC said 7,000 customers have already signed up for the offer. Last year, when the program first launched, it had about 300 participants, Shibata said. The partners hope to further expand the program next year.
The effort only scratches the surface of the 6 million window air conditioners in the city, but even a small number of smart plugs will help relieve Con Ed of some of its customers' soaring energy demands.
"We're definitely crossing over into segments of the population that normally did not care about energy efficiency, being drawn into it because it's a cool product," Shibata said. "It leaves a permanent impression, to the point where we hear about it from the consumer. It's been a great education tool for people."