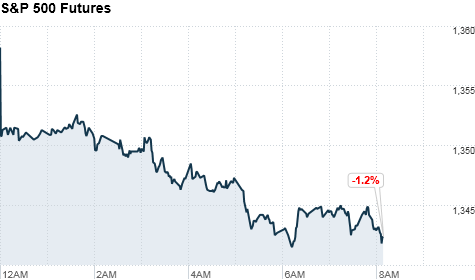 NEW YORK (CNNMoney) -- Investors are bracing for an ugly start on Wall Street Monday, tracking a global-sell-off amid heightened fears that Spain will need a full-blown bailout.
Dow Jones industrial average (INDU), S&P 500 (SPX) and Nasdaq (COMP) futures were more than 1% lower. Stock futures indicate the possible direction of the markets when they open at 9:30 a.m. ET.
The debt crisis plaguing Europe is taking a toll on Spain's regional economies, with at least one region, Valencia, said to have requested emergency funding last Friday. A second eastern region, Murcia, denied reports that it was gearing up for its own request.
Eurozone finance ministers finalized initial bailout terms for Spanish banks, but observers fear that may not be enough.
"A Spanish sovereign bailout is inevitable," said Michael Hewson, market analyst at CMC Markets in London. "Just looking at the debt metrics, the lower GDP growth figures, and the bond yields across the board, it's apparent that Spain will find it increasingly difficult to fund itself in the international bond market."
The yield on the 10-year Spanish bond jumped to a euro-area record high of 7.565% from 7.267% late Friday. Spain's leaders have said that 7% is an unsustainable level. It's also a level that flashes the first bailout signals.
The Bank of Spain also reported that the nation's economy contracted by 0.4% in the second quarter -- that's the third quarterly contraction and shows the eurozone's fourth-largest economy could be mired in recession for some time.
Meanwhile, jittery investors looked for safety in German and U.S. government bonds. The German 10-year yield fell to a record low of 1.127% while the U.S. 10-year Treasury yield touched an all-time low of 1.395%.
While Europe will likely dominate trading Monday, investors will also have some corporate earnings to contend with.
Later this week, UPS (UPS, Fortune 500), AT&T (T, Fortune 500), Ford (F, Fortune 500), Apple (AAPL, Fortune 500) and Amazon (AMZN, Fortune 500) are slated to open their books. Facebook (FB) is also set to report its first quarterly earnings as a public company.
While nearly all companies that have reported so far have topped earnings expectations, analysts' forecasts were very low to begin with. In addition, just 45% of companies that have reported have topped revenue expectations, the lowest percentage since the first quarter of 2009, according to FactSet.
U.S. stocks fell Friday, as a mixed bag of corporate news and the ongoing problems in Europe prompted investors to take some money off the table.
World markets: European stocks were deep in the red in morning trading. Britain's FTSE 100 (UKX), the DAX (DAX) in Germany and France's CAC 40 (CAC40) all lost about 2%.
Italy's benchmark FTSE MIB index fell 4%, while borrowing costs spiked. The 10--year Italian yield rose to 6.426% from 6.166% late Friday.
Asian markets ended sharply lower. The Shanghai Composite (SHCOMP) fell 1.3%, the Hang Seng (HSI) in Hong Kong tumbled 3% and Japan's Nikkei (N225) dropped 1.9%.
Companies: McDonald's (MCD, Fortune 500) shares slipped after the fast-food restaurateur missed earnings and revenue expectations, citing a slowing global economy.
Toymaker Hasbro's (HAS) stock edged up after its second-quarter earnings beat analyst expectations. But the gains were limited as the company's revenue dropped 11% and missed Wall Street's forecast.
Shares of Halliburton (HAL, Fortune 500) rose after the oil and natural gas services company posted better-than-expected earnings as strong drilling activity in international markets offset a slowdown in North America.
Shares of Nexen (NXY) jumped more than 50% after China's state-owned oil producer CNOOC (CEO) agreed to buy the Canadian oil and gas producer for $15.1 billion.
Shares of GenOn (GEN) and NRG Energy (NRG, Fortune 500) climbed after the NRG agreed to buy the Houston-based wholesale power provider in an all-stock deal worth about $1.7 billion.
RailAmerica's (RA) stock was higher after Genesee & Wyoming agreed to buy the company for $1.39 billion in cash.
Oil for September delivery fell $3.16 to $88.67 a barrel.
Gold futures for August delivery dropped $17.30 to $1,565.50 an ounce.
-- CNN producer Isa Soares contributed to this report.