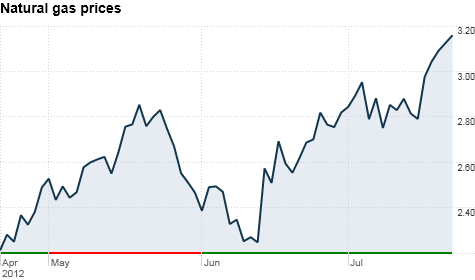 Hot days, increased use by utilities and falling production push natural gas prices up 70% over the last three months.
NEW YORK (CNNMoney) -- Natural gas prices have surged over 70% during the past three months, fueled by increased air conditioning use, a switch from coal in power plants, and declining production rates.
The price for natural gas at Henry Hub, a junction of pipelines and storage facilities in Louisiana, has gone from $1.85 per million British thermal units in April to $3.14 Tuesday -- a seven-month high.
"Hot weather forecasts and elevated cooling demands continue to provide a boost to the market," Addison Armstrong, director of market research at the brokerage Tradition Energy, wrote in research note Tuesday.
Natural gas-fired power plants can be turned on and off relatively quickly, and as such are generally used by utilities to generate electricity during times of peak demand, like during a heat wave.
This June was the 14th hottest June on record, with temperatures nationwide two degrees above the twentieth century average, according to the National Oceanic and Atmospheric Administration.
But that's not the only reason behind the price spike.
The low prices seen earlier this year -- they reached a 10-year low -- prompted many utilities to switch from coal to natural gas for power plants in continuous operation.
In fact, electricity generated using natural gas was roughly even with coal for the first time ever in April, according to the Energy Information Administration. Historically, coal accounted for just under half of the nation's electricity needs, while natural gas typically supplied just over 20%.
The low prices have also prompted many natural gas companies such as Chesapeake (CHK, Fortune 500), Devon (DVN, Fortune 500), EOG (EOG, Fortune 500) and Exxon Mobil (XOM, Fortune 500) to switch from natural gas exploration to exploration for oil.
Last April about half of the nation's 1,800 or so drilling rigs were looking for oil while half were looking for gas, according to IA. By this May over twice as many were looking for oil, and EIA has reported recent natural gas production numbers slightly below levels seen at the end of last year.
Increased demand and lower production mean less natural gas is being stored. That storage number is a key barometer for natural gas traders. Armstrong said this week should be the twelfth consecutive week of below average storage rates.
But analysts caution that prices wont rise too far above current levels.
At $3 per million BTUs, coal once again becomes competitive as a fuel source.
And despite fewer drill rigs seeking out natural gas, plenty of the stuff still comes up along with oil in many oil wells.
"The current price level [for gas] is overvalued and is likely to decline and settle back," Michael Fitzpatrick, editor of the industry newsletter the Kilduff Report, wrote Tuesday.