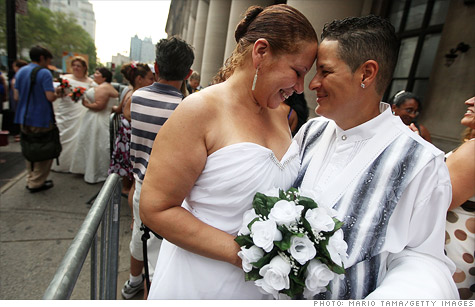 Gay marriage boosted New York City's economy by $259 million during the first year gay marriage was legal.
NEW YORK (CNNMoney) -- Gay marriage is generating millions of dollars for New York City's economy.
Since gay marriage was legalized in New York state a year ago, marriage license fees, local celebrations and wedding-related purchases have boosted New York City's economy by $259 million, Mayor Michael Bloomberg and City Council Speaker Christine Quinn announced Tuesday.
"Marriage equality has made our City more open, inclusive and free -- and it has also helped to create jobs and support our economy," Mayor Bloomberg said in a statement.
More than 8,200 same-sex marriage licenses have been issued over the past year, representing more than 10% of the 75,000 licenses issued in the city, according to a survey conducted by the City Clerk's Office and NYC & Company, the city's tourism and marketing organization.
The city collected $16 million in tax revenue from same-sex marriages over the past year. But weddings brought the biggest economic boost to the city, with about 67% of same-sex couples who got married in the city holding wedding receptions at venues like hotels, restaurants and catering halls throughout New York City's five boroughs.
Same-sex couples spent an average $9,039 on their weddings, while 31% spent $10,000 or more -- though that's still not as high as the $27,021 that the average couple spends on a wedding, according to a national survey of gay and straight newlyweds from TheKnot.com.
More than 200,000 guests flocked to New York City from other parts of the state or country to partake in the celebrations. Hotels booked nearly 236,000 nights at an average rate of $275 per night. More than 40,000 wedding announcements were printed, and couples bought 47,445 wedding favors, the economic impact survey found.
Of the 646,464 same-sex couples in the United States, more than 140,000 have formalized their relationship under state law and about 50,000 have married, according to the Williams Institute for Sexual Orientation Law and Public Policy at UCLA.
New York became the sixth state to legalize gay marriage when it passed the Marriage Equality Act on July 24, 2011.
And it isn't the only place to feel the economic impact of gay marriage. Massachusetts has received an estimated $111 million economic boost over the first five years that same-sex marriage has been legal. Same-sex marriage could generate an estimated $1 billion per year for the Federal budget if it were legalized nationwide, according to a 2004 report by the Congressional Budget Office.