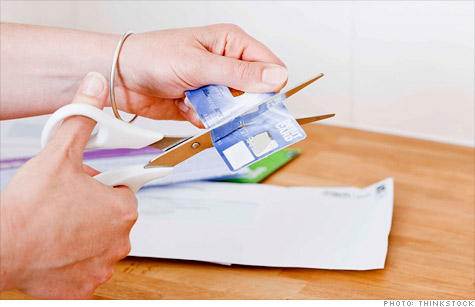 NEW YORK (CNNMoney) -- If you've thought about dumping your bank and freeing yourself of the nasty fees, there's a good chance you didn't end up pulling the trigger.
Nearly one in five checking account customers considered switching banks or credit unions over the past 12 months, a Consumers Union survey of more than 1,000 adults found. But less than half of them ended up making the swap because it was too difficult.
Many of these customers reported being fed up with rising fees at their current financial institution, but the challenge of transferring automatic payments and direct deposits to a new account made it too much of a hassle to move their business elsewhere.
"Unfair bank practices and rising fees are prompting more and more consumers to consider voting with their feet and taking their money to another bank or credit union," said Suzanne Martindale, staff attorney at Consumers Union. "But many consumers don't follow through because moving your money takes a lot of time and money and some bank policies make it harder than it should be."
Why is switching so hard? About 43% of the survey respondents said that rising fees for routine services -- which may include monthly maintenance fees for simply having a checking account, extra charges for paper statements, ATM fees or wire transfer fees -- led them to consider switching banks. Meanwhile, 38% said another bank offered them better terms and 26% cited bad customer service.
But dumping your bank isn't as easy as just closing one account and opening another. Once you open a new account, you'll need to transfer any automatic payments you have set up, like direct deposits from your employer -- or from the government if you're on fixed income -- and any recurring payments you make from your account to pay bills or fund another account. This process alone can take up to six weeks.
Then you are finally ready to close the original account and transfer whatever balance you have to the new account. But beware: A separate report that Consumers Union conducted in March found that none of the 10 biggest retail banks will transfer a customer's remaining balance to a new bank for free. Fees for certified checks range from $7 to $10 and wire transfers cost between $24 and $30.
More than half of survey respondents, or 53%, gave up on the bank-switching process before even making it to this final step. About 63% of those who didn't end up switching banks said it was too much trouble to transfer all their automatic payments and deposits. Another 37% said the entire process of moving their money would take "too much time and effort to complete," and 28% were worried about having to pay fees to transfer their money.
A better way to switch. To make it easier for customers to move their money whenever and wherever they want, Consumers Union has recommended that Congress and the government's consumer watchdog, the Consumer Financial Protection Bureau, consider several policy changes.
Since 47% of survey respondents said that they would be more likely to switch banks if their current bank offered a free, same-day electronic transfer of funds to a new bank, Consumers Union said banks should be required to offer this service to customers for free.
It also recommends requiring banks to reroute automatic payments and direct deposits to a new account within 14 days, with 37% of consumers saying this would make it easier for them to switch banks.
Another 32% of customers said they would be more likely to switch if they could use the same account number at their new bank. Consumers Union recommends that bank regulators look into whether banks would be able to provide portable bank account numbers to customers.
Consumers Union also said Congress and the CFPB should consider prohibiting banks from charging unfair fees for closing an account and from reopening an account after a customer closes it -- even if a check is cashed after the closure, for example.
"We need to make it easier for consumers to switch banks so they have a real choice when it comes to where to keep their money," said Martindale.