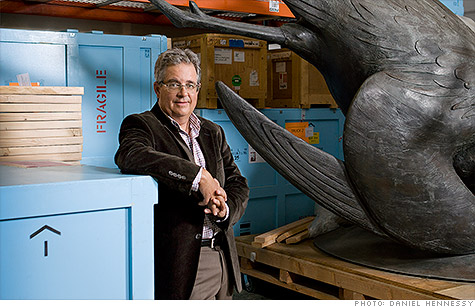 Wendell Eckholm, 57, San Diego. Then: Managed an art-handling firm. Now: Owns an art-handling firm.
(MONEY Magazine) -- As general manager at Cookes Crating, a Los Angeles-based art-handling company, Wendell Eckholm was responsible for storing and shipping some of the most recognizable paintings in the world: Picassos, Pollocks, and Warhols, to name a few.
"The responsibility of moving these multimillion-dollar artworks between auction houses and exhibitions was exciting," recalls Eckholm. "I loved the trust people had in our services."
By 2006, however, after 15 years at Cookes, Eckholm had hit a ceiling. "I'd been promoted twice, and now that I was second in command, there wasn't much room to grow."
Eckholm was ready to have his own name on the door, but taking the first step was scary. After months of research, he set his sights on San Diego.
"I knew there weren't art handling and storage companies in the area," he says. And with his contacts from Cookes, Eckholm figured he could drum up clients there.
In the summer of 2006, he tested that theory by pitching himself to museums and private collectors. The response was overwhelmingly positive.
Through a business associate, Eckholm even met a wealthy art lover who was so confident in the idea that he was willing to fund the majority of startup costs in exchange for a stake in the firm.
By May 2007, Eckholm had handed in his resignation, rented a 10,000-square-foot warehouse in San Diego, and put his L.A. home up for sale. He didn't want to uproot his wife and two teenage sons until their house had sold, though, so he headed south solo.
Those first six months were rough. Eckholm slept on a mattress in the warehouse and saw his family only on weekends. But thanks to word of mouth and the need for art storage services in San Diego, it didn't take long for things to turn around.
Five years later, ArtWorks San Diego has 200 accounts, a staff of 12, and annual revenue of $1.2 million. "I achieved exactly what I set out to," Eckholm says. "And that makes me very proud."
HOW HE DID IT
Total cost to start up: $350,000
Some 85% of that came from the San Diego investor. (While he had to give up 80% of the company, Eckholm has no regrets: "My investor helps with decisions, which is more than a bank would do.") The rest came from a private loan and his own savings.
Portion of savings Eckholm used: 95%
Eckholm hasn't yet replenished his cash cushion, but since 2009 he's been putting $300 a month into an IRA.
"It's not much, but my plan is to sell the business 20 years from now. If everything goes smoothly, my nest egg will be fairly sizable."
Year he surpassed his previous salary: 2010
High demand for art services in San Diego meant that Eckholm was able to take home $60,000 his first year -- just enough to support his family.
Now that business is steady, he's paying himself $94,000 a year, $20,000 more than he made at Cookes. "The hard work has finally paid off," he says.