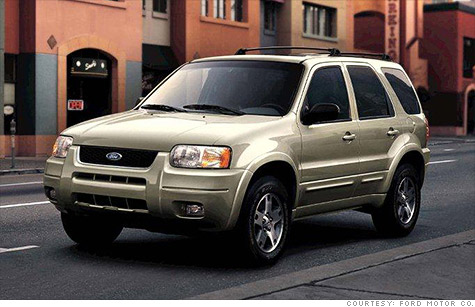 The recall involves only 2001-2004 model year Escapes with V6 engines and cruise control.
NEW YORK (CNNMoney) -- Ford Motor Co. is recalling 421,000 Escape crossover SUVs in the United States to fix a problem in which a speed control cable can become stuck resulting in unintended continued acceleration.
Only model year 2001 through 2004 Escapes equipped with V6 engines and cruise control are involved in the recall.
A total of 485,000 Escapes are being recalled globally, according to Ford.
When the gas pedal is pressed almost all the way down, a cruise control cable can become stuck between the engine cover and a cruise control cable cover. The problem can occur whether cruise control is in use or not.
If this happens, the engine will not return to a slower speed even after the driver releases the gas pedal.
NHTSA had recently opened an investigation into stuck throttles in Ford Escapes and virtually identical Mazda Tributes after receiving 99 complaints, including at least one involving a death, according to NHTSA documents.
To fix the problem, Ford dealers will increase clearance around the engine cover. The recall is expected to begin on August 6. Escape owners can contact Ford at 1-866-436-7332 for more information.
Mazda has not announced a recall on the Mazda Tribute crossover. Ford Motor Co. (F, Fortune 500) owned a controlling interest in Mazda at the time the recalled Escapes were made and the two companies shared engineering on some vehicles.
"We are aware that Ford has issued a recall on their Escape model," Mazda said in a statement. "Throughout, our engineering team has been working with NHTSA as well as counterparts from Ford, but we do not have any status updates we can provide as to next-steps at this time."
Since parts for the repair will not be available right away, dealers will render the cruise control system inoperable until a more permanent repair is made.
Ford is advising owners of V6 Escapes with cruise control not to push the gas pedal close to the floor until the vehicle has been repaired.
Ford Escapes have been the subject of two other recent recalls, but those were on the new 2013 Escape, a completely redesigned vehicle that shares little or none of its engineering with older Ford Escape SUVs.