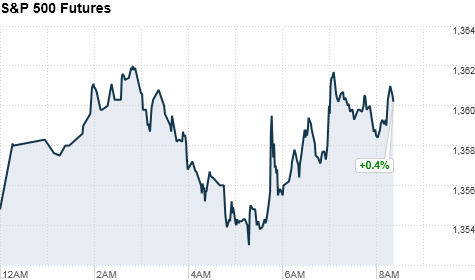 Click the chart for more premarket data.
NEW YORK (CNNMoney) -- U.S. stocks head for a higher open Friday as investors welcome a slightly better-than-expected reading on U.S. second-quarter GDP, and amid continued hope of help for Europe's troubled nations.
U.S. stock futures were up between 0.3% and 0.5%.
The U.S. economy grew at a 1.5% annual rate in the second quarter of 2012, according to the government's first reading. While that's down significantly from a 2% rate in the first three months of the year, it's slightly better than the predicted 1.4% annual pace.
Meanwhile, Europe remains at the forefront of investors' minds.
The European Central Bank and European governments are reportedly talking about taking coordinated steps to start buying Spanish and Italian debt, according to a French newspaper Le Monde.
Citing unnamed sources, the newspaper reported that the ECB was willing to buy the bonds if eurozone governments also agreed to tap the European bailout funds, the European Financial Stability Facility and the European Stability Mechanism.
This week, Spain and Italy have seen borrowing costs rise to unsustainable levels as investors worry that Spain will need a full-blown bailout, which would leave Italy without a safety net.
Spain's 10-year yield soared to a high of 7.75% earlier this week, but has come down below 7% after ECB president Mario Draghi's comments that the central bank will do whatever it takes to preserve the euro. Italy's 10-year yield, which was above 6.5% earlier this week, has pulled back below 6%.
Thursday's stock market rally was fueled by Draghi's comments, but analysts he didn't definitively outline new measures so the rally could be short-lived.
World markets: After spending most of the morning in the red, European were turned higher following the Le Monde report. Britain's FTSE 100 and the DAX in Germany were up 0.1%, while France's CAC 40 gained 1%.
Asian markets ended higher. The Shanghai Composite ticked up 0.1%, the Hang Seng in Hong Kong gained 2% and Japan's Nikkei added 1.5%.
Economy: At 10 a.m. ET, the University of Michigan will release its Consumer Sentiment Index for July, which is expected to come in unchanged from last month at 72, according to a survey of analysts by Briefing.com.
Companies: Shares of Barclays (BCS) were higher after the bank apologized for the Libor scandal while reporting a $6.3 billion profit for the second quarter.
Facebook (FB) shares were down sharply in premarket trading, poised to open at an all-time low, after the social network company's first quarterly earnings release as a public company.
Facebook beat analysts' revenue expectations slightly and earnings matched forecasts, but that was apparently not enough for Wall Street.
Starbucks (SBUX, Fortune 500) shares also tumbled after quarterly earnings that missed analyst expectations.
Merck (MRK, Fortune 500) shares rose after the health care firm beat earnings and sales expectations and affirmed its outlook for the year.
Del Frisco's (DFRG), a high-end steakhouse chain, raised $75 million in its initial public offering late Thursday, as shares priced at $13, below the range of $14 and $16 a piece. Del Frisco's will list on the Nasdaq and begin trading under the ticker "DFRG" Friday.
Chevron (CVX, Fortune 500) reported a profit that slipped from a year ago due to weaker oil prices, but company's earnings per share still topped expectations. Revenue, however, fell short of estimates.
Currencies and commodities: The dollar fell against the euro, the British pound and the Japanese yen.
Oil for September delivery rose 30 cents to $89.69 a barrel.
Gold futures for August delivery rose $10.20 to $1,625.30 an ounce.
Bonds: The price on the benchmark 10-year U.S. Treasury fell, pushing the yield up to 1.47% from 1.43% late Thursday.