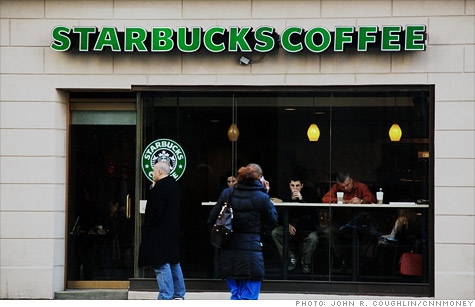 Starbucks shares were trading lower after the coffee giant lowered its outlook.
NEW YORK (CNNMoney) -- Starbucks shares were sharply lower Friday after the coffee merchant lowered its outlook and reported earnings that fell short of Wall Street's expectations.
The Seattle-based mega-chain said Thursday that it earned 43 cents per share for the quarter ended July 1, a number that fell two cents short of forecasts.
Revenue rose 13% to $3.3 billion, yet failed to match predictions.
The disappointing results, coupled with a warning from the firm's management about the current quarter, sent shares down by more than 10% after the opening bell Friday.
Starbucks (SBUX, Fortune 500) now expects to earn 44 to 45 cents per share in the fourth quarter, and $2.04 to $2.14 per share for the full year, with global economic conditions attributing to the lower expectations.
"We're dealing with significant global economic and consumer challenges," CEO Howard Schultz said during a conference call with analysts.
Starbucks isn't the only company to cite international headwinds as a reason for disappointing earnings. Ford (F, Fortune 500), DuPont (DD, Fortune 500) and UPS (UPS, Fortune 500) have all raised similar concerns in recent days.
Starbucks indicated Thursday it may scale back operations in Europe.
(Related: Corporate America rings alarm on global slump)
"We are currently conducting a more thorough portfolio review ... [and may] potentially close more stores in Europe over the next few quarters, beginning in the fourth quarter," CFO Troy Alstead said.
Still, the company says it expects to open 1,200 net new stores in fiscal year 2013, many in the United States and China.