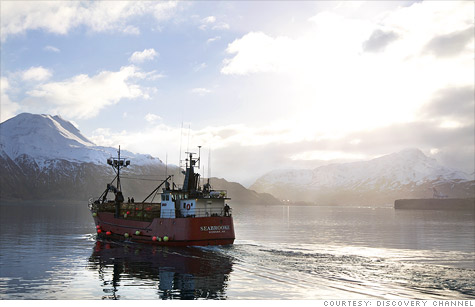 Crabbers work the dangerous waters of the Bering Sea in winter.
NEW YORK (CNNMoney) -- The nation's most dangerous job, fishing for Alaskan king crab, has not only gotten safer but it's gotten more profitable, too.
Commercial fishing has long topped the Bureau of Labor Statistics' list of jobs with the most fatalities -- and crabbing in the Alaskan waters is by far the most lethal form of fishing.
Thanks to new government rules, there has been only one death in the Alaskan crab fishery in the past six years -- a significant improvement from the 1990s which saw an average of 7.3 deaths a year, according to Edward Poulsen, director of the Alaska Bering Sea Crabbers.
The industry, which was made famous by the Discovery show "Deadliest Catch," no longer engages in "fishing derbies" where fishermen rush to fill their quotas in a few scant days.
"The gun went off and everyone scrambled," Poulsen said. "Some boats loaded too many crab pots and capsized. Others pushed their crews to work too long."
During the derbies, some boats could pull in hundreds of thousands of dollars worth of crab -- half their annual wage -- in a few days, while latecomers could come out with nothing. Everyone fished as fast as they could until the quota for the entire fleet was reached.
Most crabbing takes place in the unforgiving Bering Sea. Ice can coat boat decks, 700-pound cages being winched aboard can lurch and sweep workers overboard. Even in a survival suit, designed to provide insulation from cold water, death can come before help arrives. About 80% of crab fishery fatalities are from drowning.
But in 2006, a new catch-share (also called a quota-share) system was put in place by the North Pacific Fishery Management Council and the State of Alaska, which co-manage the fishery.
Each boat received its own quota to fill during the three-month season. The quotas can be bought, sold and even leased, so crab captains are able to acquire the shares of other boats.
With so many captains buying up other crabbers' quotas, the number of crab boats has shrunk to just over 60 from more than 250 at its peak and the boats now are mostly bigger -- and safer. Crabbers don't have to go out during storms or work on little-to-no sleep. If there's a storm or a mechanical problem, the catch waits.
In 2004, the season for Bristol Bay red king crab lasted just three days before the quota was reached, according to the National Institute for Occupational Safety and Health. In 2010, it lasted more than 20 days.
Captain Scott Campbell Jr., one of the crab boat skippers appearing on "Deadliest Catch" has worked in the industry since he was 18. At first, his dad, also a crab boat captain, did not want him to go into the business.
"So he brought me up to Alaska in the dead of winter and told his crew to lay into me," he said. "They piled on more jobs than usually given to a greenhorn. I busted three fingers."
When he returned to his home in Washington State, he was exhausted and battered. "They broke me," he said. "Then, I got a check for the three months worth of fishing I did that winter. It was for $30,000. I thought, 'That fishing wasn't so bad.'"
For 15 years, Campbell learned the ropes under the old system.
Besides being bigger and safer on rough seas, the boats carry fewer traps. No longer overloaded, they're less likely to capsize. Nearly two-thirds of the 73 crab fishing fatalities recorded in the 1990s were from capsizing.
The crews pull the traps every 36 to 48 hours, instead of every 12 to 24 hours so the process is less frenzied.
"It's still a very dangerous job," said Campbell. But "since we went to a quota-share system, the danger factor went way down."
More crabs, bigger profits: The new rules have boosted crab numbers -- and profits, according to Campbell. Because fishermen leave the traps in the water for a longer period of time, small crabs, which are illegal to take, have time to crawl through escapement rings and return to the open water to feed and grow to legal size.
More of that bycatch was pulled aboard in the old days and died as the crabbers roughly sorted and threw them back. Females, which are also illegal to take, also died in the rush to empty the traps.
This destruction reduced future harvests. Now, crab populations are growing again after declining for years, Campbell said.
Prices have also improved, he said. Under the fishing derby system, the market was flooded during the brief harvest season, pushing prices lower. With the longer season, crabs come to market more gradually and pricing is more consistent.
In 2005, crabs were selling for close to $3 a pound. Last year, they were going for closer to $7 a pound.
When the king crab season ends, Campbell goes after snow crabs, a less lucrative catch but still worth the effort. In summer, he uses the boat to transfer wild salmon from smaller boats to processors. By doing so, captains like Campbell can usually make well in excess of $200,000 a year, after expenses.
Crewmen can earn up to $15,000 per month, or between $20,000 and $50,000, -- or more -- over the course of a three-month season, according to the Alaska Fishing Employment Center. Most also work the spring snow crab fishery as well and many crabbers clear six figures for the year.
"The information we have on crabbers' income is anecdotal, but crewmen we surveyed said they're making about $100,000 a year and captains twice that," said Poulsen. "That's a lot more than a few years ago."