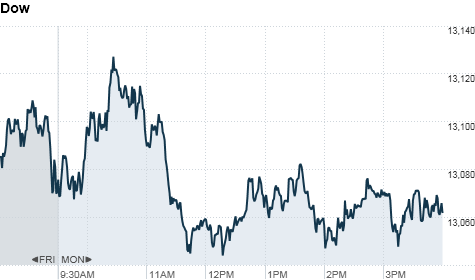 Click the chart for more stock markets data
NEW YORK (CNNMoney) -- Investors were unwilling to make any big bets Monday, waiting to see if there will be further stimulus announced by U.S. and European central bankers later this week.
"The market is wading through a fog, and until there's some clarity, we're going to see the markets bounce around," said Rex Macey, chief investment officer at Wilmington Trust Investment Advisers.
All three indexes ended the day slightly lower. The Dow Jones industrial average and the S&P 500 were both nearly flat, while the Nasdaq shaved off 12 points, or 0.4%.
Expectations are high for the U.S. Federal Reserve and the European Central Bank to announce new measures to boost the economy when they meet later this week.
"Investors are really looking to see if there's any action behind all of the desperate rhetoric," said Jack Ablin, chief investment officer at Harris Private Bank.
Once the Fed wraps up, the ECB will take center stage, with its meeting in Frankfurt on Thursday. Last week, ECB president Mario Draghi said the central bank would do "whatever it takes" to preserve the euro. Investors now want to see if he'll put those words into action.
Macey said that more stimulus measures would give markets a short-term boost, but the impact wouldn't necessarily be a lasting one.
And Ablin noted: "The markets will react later this week if actions don't keep pace with what we've heard."
While the central bank meetings will be at the forefront, investors will also be digesting earnings results that have come out over the past couple of weeks and those due in the week ahead.
Nearly 60% of the companies in the S&P 500 have already reported, and results have been lackluster. Excluding the financials sector, second-quarter earnings are expected to decline 0.4%, according to Thompson Reuters, marking the end to a ten-quarter winning streak.
World markets: European markets all closed higher. Britain's FTSE 100 rose 1.4%, the DAX in Germany added 1.6%, while France's CAC 40 gained 1.3%.
Spain's economy shrank for a third straight quarter. The struggling country's GDP fell 0.4% during the second quarter.
Spain has been in the spotlight thanks to its high debt and soaring borrowing costs. The Spanish 10-year yield neared 8% last week, but has since pulled back amid hopes that the ECB will intervene.
Italy sold €5.48 billion of bond 3-, 5- and 10-year government notes, slightly less than the €5.5 billion target. Yields fell in comparison to a previous auction, with the benchmark 10-year yield easing to 5.96% compared to 6.19% a month ago.
Asian markets ended mixed. The Shanghai Composite slid 0.9%, while the Hang Seng in Hong Kong gained 1.6% and Japan's Nikkei rose 0.8%.
Companies: Shares of Sprint Nextel (S, Fortune 500) rose more 3% on Monday, continuing their recent surge, helped by stronger revenue and an increase in subscribership. The stock is up over 80% this year, despite the fact that the company is still losing money.
Shares of Coca-Cola (KO, Fortune 500) hit a 52-week high after the soft drink maker said it was streamlining its operations by creating three business units to better address global challenges.
HSBC (HBC) said it put aside about $2 billion to compensate U.K. customers for the inappropriate selling of payment-protection insurance, and to pay costs in the U.S. related to accusations it failed to prevent billions of dollars worth of money transfers linked to drug cartels and terrorist groups.
Apple (AAPL, Fortune 500) and Samsung begin their patent battle in court Monday. Apple filed a lawsuit against Samsung last year alleging that the company's smartphones and tablets are knockoffs of its iPhone and iPad, and an infringement on its patents. Apple is seeking $2.5 billion in damages.
Currencies and commodities: The dollar rose against the euro and the British pound, but fell versus the Japanese yen.
Oil for September delivery lost 49 cents to $89.64 a barrel.
Gold futures for August delivery gained $1.70 to $1,619.70 an ounce.
Bonds: The price on the benchmark 10-year U.S. Treasury fell slightly, and the yield edged up to 1.50%.