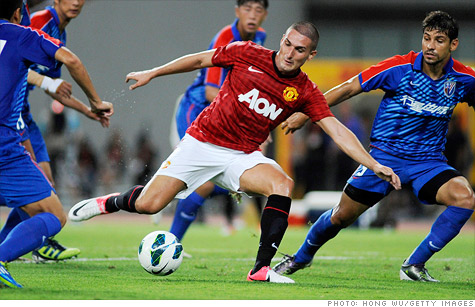 Manchester United's IPO would value the team at as much as $3.3 billion.
NEW YORK (CNNMoney) -- The British soccer team Manchester United has filed for an initial public offering that would cement the team's standing as the world's most valuable sports franchise.
The IPO would trade at $16 to $20 a share and value the team at $2.6 billion to $3.3 billion. Overall, the IPO would value the team well above the $1.47 billion paid by its owners in a debt-financed takeover battle that concluded in 2005.
Shares are expected to start trading next week on the New York Stock Exchange under the symbol MANU.
Despite the team's popularity and success, the company was not very profitable last year. The stock would trade at a valuation even pricier than the IPO of Facebook (FB).
One expert, Francis Gaskins, president IPOdesktop.com, called the IPO price tag "awfully high" considering that the company's revenue is growing only 6% annually in recent years. He said the valuation is one commonly associated with a fast-growing tech company.
"I wouldn't buy it," he said.
The values of sports franchises are often inflated by owners willing to overpay for the glory of controlling a team.
The Los Angeles Dodgers, which Forbes estimated was worth $1.4 billion, was recently bought out of bankruptcy for $2.15 billion. ManU is already the world's most valuable sports team, estimated to be worth $1.9 billion, just ahead of a $1.85 billion estimates for both the New York Yankees and the Dallas Cowboys.
And the few teams that have been publicly traded in the past have not been great investments. The stocks of the Boston Celtics, the Cleveland Indians and the Florida Panthers all performed badly during their brief runs in public markets.
ManU is already taking steps to increase revenue and profits. On Monday it signed a seven-year deal with General Motors (GM, Fortune 500) to have its players wear the Chevrolet logo on their uniforms for a reported £27 million a year, starting in 2014, up from the £20 million annually that insurer Aon (AON, Fortune 500) is paying for the current deal.
The team intends to use much of the proceeds it expects to raise in the IPO to reduce its debt, which are one of the biggest drags on a company's earnings.
But only about half the shares are being sold by the club; the other half are being sold by the Glazer family, the American owners of the NFL's Tampa Bay Buccaneers who bought ManU in a debt-financed takeover battle 2005.
ManU's American owners are very unpopular with many of the team's fans. That has made the IPO, especially the decision to trade in New York rather than London, extremely unpopular with fans as well.