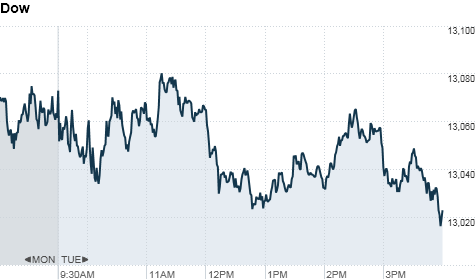 Click the chart for more stock markets data
NEW YORK (CNNMoney) -- U.S. stocks closed down slightly Tuesday amid another day of cautious trading ahead of meetings by U.S. and European central bankers.
The Dow Jones Industrial Average slipped 64 points, or 0.5%, the S&P 500 lost 6 points, or 0.4%, and the Nasdaq fell 6 points, or 0.2%.
While investors sifted through a handful of encouraging economic reports, they were mostly sitting back and waiting for central bank meetings when they'll find out whether the U.S. Federal Reserve and the European Central Bank will announce new stimulus measures to boost the economy.
"It's hard to believe that someone is going to make any big bets with the possibility of something drastic coming out of either central bank," said Art Hogan, managing director at Lazard Capital Markets.
The Fed's two-day meeting kicked off Tuesday, with an announcement due Wednesday afternoon.
"The Fed has three credible options, and the hope is that one of them comes to fruition," said Hogan. "If we don't get anything, this is a market that will be disappointed. But at the same time, even if they do something, I'm not sure how much will be enough."
The most likely step the Fed will take is cutting the interest rate the Fed pays on bank reserves from its current 0.25% to zero, following the ECB's decision earlier this month to cut its deposit rate to zero, said Hogan.
The Fed could also extend its plan to keep interest rates near zero beyond its current 2014 forecast, he said.
Hogan said the least likely outcome is a third round of quantitative easing from the Fed.
"Expectations for QE3 at this meeting are very low, but the market will expect hints on future actions," he said. "The market has priced in some type of change in language."
The ECB will take center stage Thursday, when its Governing Council meets in Frankfurt.
All three indexes ended July with mild gains. The Dow saw a 1% uptick, the S&P 500 posted a 1.3% increase and the Nasdaq ended the month with a 0.15% rise.
World markets: European markets closed mixed. Britain's FTSE 100 slid 0.8% and CAC 40 dropped 0.5%, while the DAX in Germany rose 0.2%.
The unemployment rate for the 17-nation eurozone held steady from the previous month at a record 11.2% in June, according to Eurostat, the European Union's statistical office. In the broader 27 nations that make up the EU, the unemployment rate in June remained at 10.4% -- unchanged from May.
Eurostat also said that inflation was unchanged in July, at 2.4%.
Asian markets ended mixed. The Shanghai Composite lost 0.3%, while the Hang Seng in Hong Kong gained 1.1% and Japan's Nikkei rose 0.7%.
Economy: Personal income rose 0.5% in June, while spending remained unchanged, according to a government report. Economists surveyed by Briefing.com expected a 0.4% increase in income and a 0.1% rise in spending.
In a sign of a U.S. housing rebound, home prices in 20 major cities rose 2.2% in May, according to the S&P/Case-Shiller index. Economists were forecasting a 1.8% drop in prices in May, following a 1.9% decline in the previous month.
The Chicago PMI, a regional reading on manufacturing activity, rose to 53.7 in July from 52.9 the prior month. Economists were expecting the index to slip to 52.5 during the month.
Consumer confidence rose in July. The Conference Board's index rose to 65.9 from 62.7 in June. Economists were expecting the reading to decline slightly to 61.
Companies: Coach (COH) shares tumbled after the retailer reported revenue that fell short of forecasts. Of particular concern is the fact that Coach pointed to sluggishness in North America.
UBS (UBS) said its second-quarter profit tumbled 58% from a year earlier due to lower trading revenue and losses from the botched Facebook (FB) IPO.
Deutsche Bank (DB) said its second-quarter profit dropped 44% and revenue declined 6% as Europe's sovereign debt crisis weighs on investor confidence and client activity across the bank. The bank said it is cutting 1,900 jobs, mostly outside of Germany, in an effort to save €350 million, sending the stock higher.
Oil producer BP (BP) reported a loss of $1.4 billion for the second quarter, sending shares sharply lower. The company wrote down the value of $5 billion worth of assets, including U.S. refineries and shale gas assets, and had continued costs related to the Gulf of Mexico oil spill.
Shares of Pfizer (PFE, Fortune 500) rose after the drug maker beat earnings and revenue expectations.
Humana (HUM, Fortune 500) shares sank after the health insurer reported a drop in second-quarter profit and lowered its full-year profit outlook.
United States Steel's (X, Fortune 500) stock jumped after the company's earnings and revenue topped expectations.
Shares of Apple (AAPL, Fortune 500) climbed after an analyst at Bernstein Research said the company is considering a stock split, a move that could prompt it to be added to the Dow Jones Industrial Average.
Currencies and commodities: The dollar fell against the euro and the Japanese yen, but gained ground versus the British pound.
Oil for September delivery fell $2.18 to $87.60 a barrel.
Gold futures for August delivery lost $9.20 to $1,610.50 an ounce.
Bonds: The price on the benchmark 10-year U.S. Treasury edged lower, pushing the yield up to 1.49% from 1.50% late Monday.