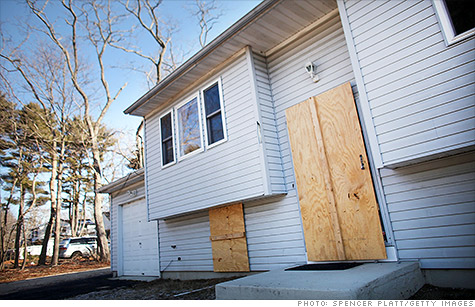 Fannie and Freddie will not be lowering the amount struggling borrowers owe on their mortgage.
NEW YORK (CNNMoney) -- The verdict is in.
Fannie Mae and Freddie Mac will not lower the amount struggling homeowners owe on their mortgages, their regulator declared Tuesday after a months-long delay.
The Federal Housing Finance Agency said its analysis found that principal reduction does not prevent foreclosures while saving taxpayers money.
"FHFA has concluded that the anticipated benefits do not outweigh the costs and risks," said Edward DeMarco, the agency's acting director, who has steadfastly resisted calls to implement the loan modification technique.
Treasury Secretary Tim Geithner, however, is not taking no for an answer. He quickly shot off an eight-page letter to DeMarco urging him to change his mind. In it, Geithner argued that allowing principal reduction would ultimately save taxpayers as much as $1 billion.
"I do not believe it is the best decision for the country," Geithner wrote. "You have the power to help more struggling homeowners and help heal the remaining damage from the housing crisis."
DeMarco has been facing tremendous pressure to allow the government-controlled mortgage titans to reduce the principal on mortgages they back. Some advocates say the best way to stabilize the housing market is to lower the balances for borrowers who owe more than their homes are worth.
The Obama administration sweetened the pot earlier this year by offering Fannie and Freddie incentive payments of up to 63 cents per dollar of principal forgiven. This prompted the firms to take another look at their analysis.
DeMarco said that his prime directive is to minimize taxpayer bailouts of Fannie and Freddie, which have already received more than $188 billion. Reducing principal would likely increase that amount because it would lock in losses on their portfolios.
In a letter to Congress Tuesday, DeMarco said principal reduction would only help a maximum of 248,000 homeowners. But the companies would have to spend time and money developing and implementing such a program, which would also delay a resolution for many troubled borrowers.
Also, he's concerned that principal forgiveness could prompt many borrowers who are current with their payments to fall behind in order to prove financial hardship -- one of the prerequisites for getting a loan modification. Having them default will hurt the housing market more than offering principal reduction will help it, he said.
And it could hurt credit availability in the future because principal reduction would require the rewriting of a contract, which could prompt investors to shy away from mortgage-backed securities or demand higher rates in the future due to the added uncertainty.