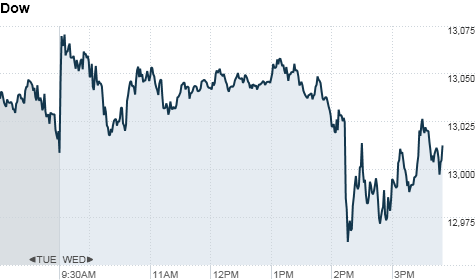 Click for more market data.
NEW YORK (CNNMoney) -- U.S. stocks edged lower Wednesday after the Federal Reserve left its economic policies unchanged, dashing hopes for more stimulus measures.
The Dow Jones Industrial Average fell 32 points. The S&P 500 and the Nasdaq ended modestly lower.
After a two-day meeting, the Fed's Open Market Committee issued a statement that was largely identical to the one it released after its June meeting.
The central bank said economic activity "decelerated" and reiterated its former guidance, forecasting it is likely to hold interest rates near "exceptionally low levels" at least through late 2014.
Some investors had expected the Fed to say it would hold interest rates near zero into 2015. But hopes for more aggressive stimulus measures had been scaled back this week, said Quincy Krosby, market strategist with Prudential Financial in Newark, N.J.
"That's why there wasn't a more visceral reaction in the market," Krosby said.
The Fed announcement came ahead of the European Central Bank's highly-anticipated meeting in Frankfurt on Thursday.
Investors are hopeful that the ECB will announce some form of new action, after central bank head Mario Draghi said last week that the institution will do "whatever it takes" to preserve the euro.
"In many ways, Draghi has already acted," said Krosby. "That was a verbal intervention if there ever was one."
At the same time, investors will probably be disappointed if the ECB does not do something to restore confidence in the bond market.
"The market is not going to give Europe much time to act if the deterioration continues," Krosby added.
The Fed announcement came after an apparent trading glitch roiled the market earlier Wednesday.
An unusual surge in trading volumes caused several stocks to be halted after circuit breakers were triggered.
The erratic moves appeared to stem from a trading program operated by Knight Capital (KCG).
Knight said in a statement that "a technology issue" occurred in its market-making unit involving about 150 stocks. The firm said it notified clients earlier Wednesday that orders should be rerouted as it reviews the matter internally.
Shares of Knight fell more than 30%.
The New York Stock Exchange is currently reviewing trades in 140 ticker symbols between 9:30 a.m. ET and 10:15 a.m. ET.
The episode was reminiscent of the May 2010 "flash crash," in which the Dow plunged 1,000 points before rebounding. It also comes after glitches on the Nasdaq marred Facebook's (FB) highly-anticipated IPO earlier this year.
Wednesday's mishap "was a disaster," said Dave Rovelli, managing director of U.S. equity trading at Canaccord Adams. "This is not good for investor confidence. It's like the 'flash crash' all over again."
World markets: European stocks closed mixed. Britain's FTSE (UKX) gained 1.4%, France's CAC 40 (CAC40) rose 0.9%, while the DAX (DAX) in Germany edged down 0.3%.
The gains came despite a spate of weak reports on manufacturing activity. The Markit Final Eurozone Manufacturing PMI fell to 44 in July, a more than three-year low but roughly in line with forecasts. Manufacturing activity in the United Kingdom and Italy also slowed in July.
Asian markets ended mixed. The Shanghai Composite rose 0.9% and the Hang Seng in Hong Kong edged higher 0.1%, while Japan's Nikkei lost 0.6%.
There were conflicting signals about manufacturing activity in China in July. HSBC's PMI for the month came in at 49.3, up from 48.2 in June. While the slowdown in activity eased a bit, a reading below 50 still indicates a contraction.
However, figures from the government showed that manufacturing in China expanded slightly during the month, but slowed from June. The China Federation of Logistics and Purchasing's PMI came in at 50.1 in July, down from 50.2.
Economy: U.S. private-sector employers added 163,000 jobs in July, according to a report from payroll-processor ADP. Economists had expected an addition of 125,000 jobs.
The Institute for Supply Management said its Manufacturing Index edged higher in July to 49.8 from 49.7 in June. Economists expected the index to come in at 50.1, according to Briefing.com.
The Census Bureau said construction spending rose 0.4% in June, compared with a forecasted 0.5% increase.
Companies: Shares of Apple (AAPL, Fortune 500) have gained 4% this week amid speculation about a possible stock split and potential for its inclusion in the Dow.
Shares of Time Warner (TWX, Fortune 500) dipped after the media giant reported reduced second-quarter revenue and earnings Wednesday despite improved results at its television networks unit. (CNNMoney is owned by Time Warner.)
Comcast (CMCSA) reported better-than-expected earnings and sales figures for the second quarter, as the company added new customers for its Internet and phone services.
Shares of Avon Products (AVP, Fortune 500) fell after the company's second-quarter profit dropped 70% from a year ago and sales fell 9%, coming in below expectations.
Pharmaceutical company Allergan (AGN, Fortune 500) said earnings rose 21% in the second quarter from a year ago. It also announced plans to pay a quarterly dividend of 5 cents per share.
Harley Davidson (HOG, Fortune 500) shares sank after the motorcycle maker reported sales growth that disappointed investors, even as profits rose.
Currencies and commodities: The dollar fell against the euro and Japanese yen, but gained ground versus the British pound.
Oil for September delivery rose 79 cents to $88.85 a barrel.
Gold futures for August delivery fell $6.80 to settle at $1,60.3.70 an ounce.
Bonds: The price on the benchmark 10-year U.S. Treasury fell, pushing the yield up to 1.49% from 1.43% late Tuesday.