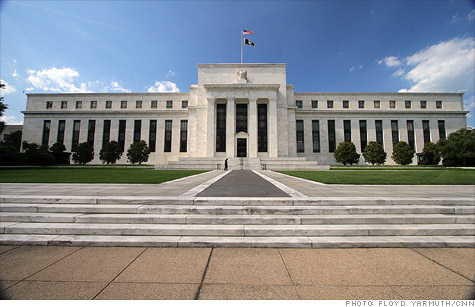 While acknowledging that the recovery is slowing, the Federal Reserve chose not to add more stimulus to the economy
NEW YORK (CNNMoney) -- The Federal Reserve decided to stick to its current policies Wednesday, but indicated the United States economy is slowing and that more action could be in the cards soon.
Since Fed policymakers last met six weeks ago, data has shown the recovery slowed and hiring remained tepid. The economy grew at a paltry 1.5% annual rate in the second quarter, and employers added just 80,000 jobs in June.
The central bank said that economic activity "decelerated" in its policy statement released Wednesday afternoon and reiterated its former guidance, forecasting it is likely to hold interest rates near "exceptionally low levels" at least through late 2014.
Meanwhile, the Fed will also continue its current policy known as Operation Twist. That program swaps short-term bonds for ones with longer durations, in an effort to lower long-term interest rates on mortgages to business loans.
The Federal Reserve has kept interest rates near zero since December 2008, as a way to free up credit following the financial crisis.
To push rates even lower, the central bank has also purchased more than $2 trillion in assets in two rounds of so-called quantitative easing, or QE.
While no additional actions were announced Wednesday, the Fed said that it is prepared to do more to boost the economy if needed.
"The Committee will closely monitor incoming information on economic and financial developments and will provide additional accommodation as needed to promote a stronger economic recovery" the statement said.
That language was slightly more direct than previous statements, which said the Fed was "prepared" to take action. Some Fed watchers took that as a sign that more action could be coming.
Zach Pandl, senior interest rate strategist at Columbia Management, said the new statement sent a "strong signal" that the Fed will act at its next meeting.
"The only thing in my view that could change the Fed's mind is better data," Pandl said. "If activity accelerates, if the European situation improves dramatically, or if the unemployment rate drops a few tenths, then QE might be off the table."
Recent pledges to take action made by Federal Reserve Chairman Ben Bernanke have led investors to speculate about whether a third round of quantitative easing -- or QE3 -- is coming soon. After no such stimulus was announced Wednesday, stocks fell in afternoon trading.
Economists caution that any further Fed action is likely to have only a minor effect at this point. But the Fed could decide the risk of doing nothing is even more worrisome, especially given challenges including the looming fiscal cliff and Europe's debt crisis.
"Strains in global financial markets continue to pose significant downside risks to the economic outlook," the Fed statement said.
Of the Fed's 12 voting members, Richmond Fed President Jeffrey Lacker was the only one to oppose the decision. Lacker objected to publishing the outlook for low interest rates. He has dissented at every Fed meeting since January.
The Fed's next meeting is scheduled for September, at which point the central bank will have more information on the economy, showing whether weakness persisted throughout the summer.
In late August, Bernanke will also give a high-profile speech in Jackson Hole, Wyo., where he could offer up more hints of the Fed's next move.