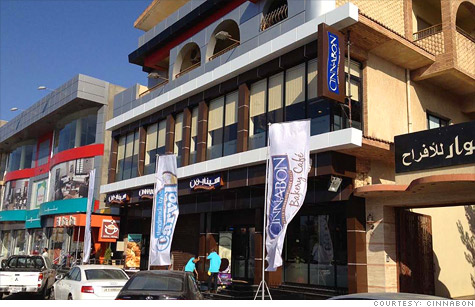 Atlanta-based bakery-cafe chain Cinnabon, which debuted in downtown Tripoli in early July, becomes the first-ever U.S. franchise in Libya.
NEW YORK (CNNMoney) -- Cinnabon has opened a bakery-cafe in downtown Tripoli, making it the first U.S. franchise to enter Libya.
Cinnabon, based in Atlanta, is also looking to enter Algeria, Tunisia and Morocco, said Mike Shattuck, president of Focus Brands International, parent company of Cinnabon and other brands.
The new 7,500-square-foot Cinnabon store in Libya is located on a busy street in Tripoli's business district; it opened on July 2. It also sells Carvel Ice Cream, another brand owned by Focus.
The company, which has more than 900 locations in 51 countries, plans to open at least 10 Cinnabon locations in Libya in the next four years.
"Ultimately, we think there's an even larger opportunity in the country for us," Shattuck said.
The company started seriously considering expanding into Libya two years ago when U.S. sanctions on the country were easing. Shattuck said the firm received numerous franchise inquiries from Libyans living overseas.
"They were already familiar with the brand and wanted to bring it to Libya," he said.
"We were in every major market in the Middle East. Expanding into Libya made sense as part of our emerging market strategy," he said.
Today, Libya is recovering from a civil war that led to the overthrow and death of long-time dictator Moammar Gadhafi last fall.
The Cinnabon push into Libya had been planned for early 2011. The company had selected local franchise partners, selected a location and the first shipment of products was on its way when the country erupted in civil war.
"We quickly halted everything because the revolution happened," said Shattuck. "Fortunately we were able to secure the location and it made it without serious damage."
In the first week of its opening, the Tripoli Cinnabon store logged $45,000 in sales, according to the company.
American business interest in Libya is growing, said Chuck Dittrich, executive director of the U.S.-Libya Business Association, a trade group representing American companies that are interested in doing business in Libya.
In April, the trade group led a delegation of 20 American companies to Libya to discuss business opportunities.
Much of the interest is coming from the energy, infrastructure and health care industries, Dittrich said. But American franchises are also taking note of Libya.
"In the new Libya, people are seeing franchising as an opportunity to become entrepreneurs," said Dittrich.
"This is one of the questions I get asked most," he said. "When are American franchises coming to Libya?"