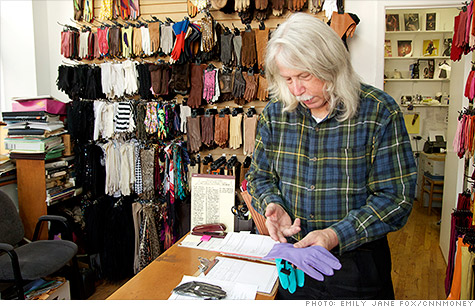 Jay Ruckel and his wife, Lacrasia Duchein, are the last custom-made glove makers left in New York's Garment District.
NEW YORK (CNNMoney) -- Lacrasia Duchein and her husband, Jay Ruckel, have been making gloves the same way in New York's Garment District for 35 years.
Their small business was once part of a thriving cottage industry. But now, as technology and overseas production has reshaped the field, Duchein and Ruckel are the last custom glove makers left in the city.
And their time might finally be up.
Just two decades ago, LaCrasia Gloves employed 35 workers and turned out 60,000 pair of gloves a year. Annual revenue was $2 million. Jackie Kennedy was commissioning its silk, elbow-length gloves.
Now the company has six employees and expects to make 5,000 pair of gloves this year. Its retail store has closed, and the cost of everything, from rent to leather, has gone up. They're still outfitting celebrities -- from first ladies to Lady Gaga -- but they're no longer making much money. Ruckel said $75,000 in revenue this year will be a stretch.
Ruckel stitches his gloves, which range in price from $5 to $400, at the front of a cramped room.
Rows of perfectly organized gloves -- once for sale, now merely for rent -- line the walls in a narrow room that's littered with hand tracings and old order forms.
Duchein and Ruckel no longer sell to retailers; their primary business comes from Broadway shows and debutante balls. They work with 90 designers during New York Fashion Week, but only three or four commission LaCrasia to make gloves beyond their fashion shows.
Even though the couple isn't bringing in enough money to pay themselves salaries, they sometimes turn orders away because their small staff can't fill them.
They chalk up much of the loss to changes that many manufacturers in the Garment District are seeing, since so many designers have sent production overseas.
As orders got shipped abroad, New York has suffered an 80% decrease in the number of workers employed in apparel manufacturing since 1990, according to New York state's Labor Department.
For LaCrasia, it hasn't helped that the founders haven't kept up with the times.
LaCrasia doesn't have a Universal Product Code, which it needs to sell to stores. Duchein said she and her husband "barely know what a barcode is."
The couple also doesn't have an online store. They tried, but couldn't figure out how to update prices and consistently upload new products to the website.
"Designers are in shock with how behind we are. They're at their computers all day and they'll call us screaming, 'You didn't get my email?' " Duchein said. "And I'll be like 'What! We're over here, just trying to make gloves.' "
Duchein set up a Twitter account to bring in new customers, but she's since stopped updating it. Ruckel didn't push her to continue. He said he prefers to keep it "old-fashioned" anyway.
"Shakespeare's daddy was a glove maker and I don't intend to do it any differently," he said.
But experts say that LaCrasia will need to do things differently if it wants to survive.
"Fashion is, by its nature, ever changing," said Eric Johnson, director of Fashion NYC 2020. "But it's one of the industries that's been a laggard in adopting technology and new business models."
Johnson said that companies that understand how consumers think and purchase using technology are the ones that will win them over.
So what happens to companies like LaCrasia that haven't kept up?
"We're at a crossroads," Duchein said. "Either we go really small, with custom and one of a kind work, or we take on an investing partner who will take this into the next generation."
"It's really a shame. We're 65, and we're asking ourselves what we do next."
They're torn about which direction to choose. But they are determined to show that things can still be made, and made well, in America.
"As long as I can carry a pair of scissors in my hand," Ruckel said, "nothing will ever stop me."