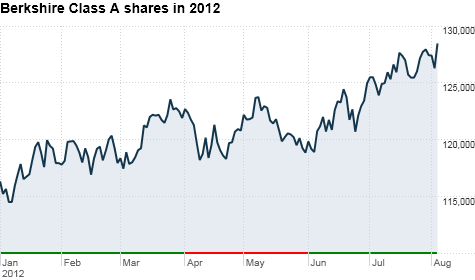 Click the chart for more info.
NEW YORK (CNNMoney) -- Warren Buffett's Berkshire Hathaway posted earnings that dropped versus a year ago, as the company reported a loss on its derivative holdings.
Buffett's firm uses derivatives in its financial and energy businesses to speculate on certain price movements. The bets lost more than a billion dollars in value in the second quarter of this year.
Overall, Berkshire (BRKA, Fortune 500) posted net earnings of $3.1 billion for the quarter, down from $3.4 billion a year ago.
Despite this drop, Berkshire's brick-and-mortar businesses are holding up just fine.
Operating earnings, which exclude some investment and derivative gains, came in at $3.7 billion, up from $2.7 billion last year. That translated to $2,252 per Class A share, ahead of the $1,777 projection from analysts surveyed by Thomson Reuters.
Berkshire's Class B shares (BRKB) rose 1.2% in after-hours trading.
Berkshire owns dozens of companies, including insurer Geico, chemical company Lubrizol, railroad company Burlington Northern Santa Fe and MidAmerican Energy.
The firm also holds stakes in companies like Kraft Foods (KFT, Fortune 500) and Johnson & Johnson (JNJ, Fortune 500), and it surprised some observers last year with a foray into the tech world, buying shares of Intel (INTC, Fortune 500), IBM (IBM, Fortune 500) and DirecTV (DTV, Fortune 500).
Much of Berkshire's derivatives are bets on the value of global stock indexes like the S&P 500. Berkshire's position suffers when these index values fall.
Meyer Shields, an analyst with Sitfel Nicolaus & Company, said that while Berkshire has a significant amount of money tied up in its derivative contracts, most don't expire till 2018, making their quarterly swings less meaningful.
Berkshire reported $619 million in earnings in its insurance underwriting business for the quarter. This division was battered in the early part of 2011 due to catastrophes including the earthquake-and-tsunami disaster in Japan, and lost $7 million in the second quarter of last year.
The company's Railroads, Utilities and Energy segment also showed improved results.
"Bottom line, I'd say it was a solid quarter," Shields said. "The insurance aspect of it looks spectacular -- everything else I would describe as solid."
Still looming over Berkshire are questions about its succession plan.
In a letter to shareholders earlier this year, Buffett disclosed that he had been diagnosed with prostate cancer, though the 81-year-old claimed the condition "is not remotely life-threatening or even debilitating in any meaningful way." Additional tests, he added, didn't reveal incidence of cancer anywhere else in his body.
Buffett has yet to publicly reveal a succession plan, though he says he has already informed Berkshire's board about his preferred candidates. Upon his departure, Buffett's job will be divided between a CEO in charge of operations and one or more executives in charge of investments.
Berkshire shares had a rare down year in 2011, slipping 4.7%, even as the broader market stayed mostly flat. Over the past two decades, the company's stock has gained more than thirteen-fold, while the S&P 500 Index is up about three-fold.
In May, the company reported first-quarter earnings that doubled versus last year, buoyed by gains in its insurance businesses and derivatives holdings.