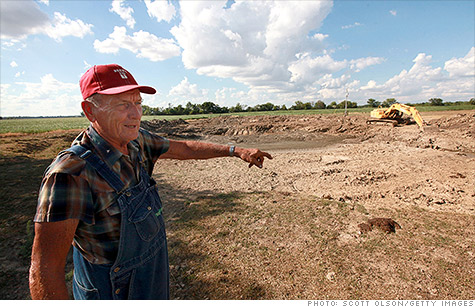 This year's drought is expected to bring record breaking crop insurance losses.
WASHINGTON (CNNMoney) -- As the drought continues to ravage the nation's corn, wheat and soybean fields, crop insurance losses are expected to break records.
With nearly half of the continental United States under severe drought conditions, crop insurance losses are mounting daily, according to a report from the National Drought Mitigation Center at the University of Nebraska-Lincoln released on Thursday.
"It will be a major loss situation," said Thomas Zacharias, president of the National Crop Insurance Services, a lobbying group representing private crop insurers. "The companies are in the field adjusting claims as we speak."
An economist with the group roughly estimated that losses could top $20 billion.
And taxpayers will ultimately shoulder most of the cost the nation's scorched fields.
While there are no official estimates available yet, National Crop Insurance Services Economist Keith Collins said crop losses this year look as bad or worse than other terrible drought years.
Most crop farmers are largely protected from the financial drain of disasters like drought through heavily subsidized crop insurance.
The federal government pays on average 60 cents of every dollar of premium sold for crop insurance.
On top of that, if there are losses, the federal government shares with insurers the cost of paying them. And the worse the disaster, the more of the burden is shouldered by the federal government, agricultural policy experts day.
Last year, the federal government recorded $11.9 billion worth of crop insurance premiums, $7.4 billion of which was paid by the government, according to figures kept by the U.S. Department of Agriculture Risk Management Agency.
Crop insurance had a record breaking year in 2011 with floods, drought in the Southwest and Hurricane Irene on the East Coast costing $10.8 billion in crop insurance losses.
Beyond the tax burden, consumers will also get hit by the drought through higher grocery prices.