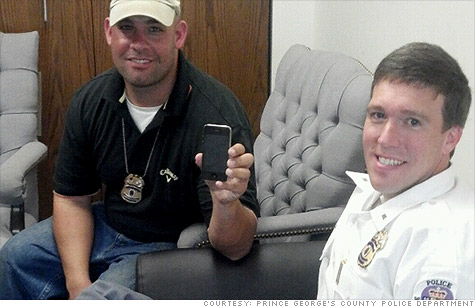 Two of the Prince George's County police officers who tracked down David Pogue's missing iPhone show off the recovered device.
NEW YORK (CNNMoney) -- Pro tip for thieves: If you're going to steal an iPhone, make sure it doesn't belong to a famed New York Times tech columnist.
The story unfolded on Thursday like a real-time detective caper, in which local police were aided by a tech blog, Twitter, an app and GPS.
It began just before 11:30 a.m. ET, when Times writer David Pogue tweeted that his iPhone had gone missing while he was riding an Amtrak train. He used Apple's (AAPL, Fortune 500) free "Find My iPhone" app to track it, which revealed a screenshot of his phone's location in Maryland.
Tech blog Gizmodo flung itself into the chase.
It posted a story about Pogue's dilemma just 20 minutes after his tweet, and writer Kyle Wagner spent the next several hours digitally pursuing the device.
Gizmodo posted information about the area where Pogue's iPhone was located, including Google (GOOG, Fortune 500) Street View images. Then Gizmodo contacted local police in Prince George's County.
For any would-be heroes, Gizmodo had a warning: "Carmody Hills-Pepper Mill Village area has nearly twice as many murders as the national average, and more than three times the average number of assaults."
Many followed the story on Twitter as it unfolded, tweeting tips and advice to Pogue and local police. The semi-satiric hashtag #PoguePhoneSeriousEmergency sprang up.
At 2:25 p.m., a local police officer contacted Gizmodo and offered to "at least go knock on the door." But the officer, whom Gizmodo kept anonymous, explained that the situation was tricky. The iPhone's GPS isn't 100% accurate about the device's exact location.
Then things happened quickly: The iPhone was on the move, from the driveway to inside the house. Pogue sent Gizmodo overhead shots of the house where it appeared to be located.
"Over and over and over, I pinged the phone, so that the officer might hear it as he toured the house," Pogue wrote later in a blog post recounting the tale. "My heart was in my throat; it was a cat-and-mouse game of GPS versus possible Bad Guy."
At about 5 p.m., Prince George Police Department media rep Julie Parker tweeted at Pogue that officers had located his iPhone, proudly displayed in a photo with two of the cops who found it. She promised to FedEx the phone to Pogue.
On Friday morning, Parker tweeted that no one was arrested for the incident because it was "unclear if the phone was actually stolen or misplaced." Police finally tracked the phone down in the backyard of a house in the area indicated by the "Find My Phone" tracker.
Pogue said he's not going to press charges.
It was a happy ending for Pogue, but some on Twitter questioned whether the police would have worked so hard for iPhone owners who don't write for the New York Times.
Parker insisted in a tweet that the Prince George department would have done the same for anyone, though she noted that it's "rare to recover" a stolen iPhone.
Others marveled at the Internet's ability to mobilize -- but wondered whether a lost iPhone was worth the effort.
As Business Insider writer Matt Lynley asked in a tweet: "Does it feel weird to anyone else that the Internet basically prompted the police to go digging for a phone, of all things?"