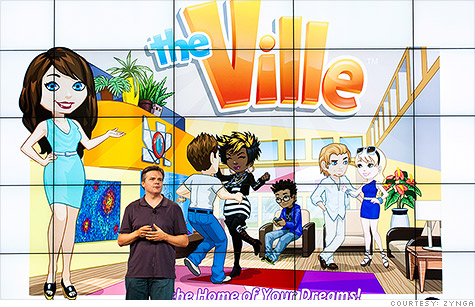 A Zynga executive introduces The Ville, a game Electronic Arts says is a direct copy of The Sims Social.
NEW YORK (CNNMoney) -- Zynga made a name for itself by developing games for Facebook, but a lawsuit from Electronic Arts accuses the FarmVille maker of acting less than friendly.
Zynga's new game The Ville is a "blatant mimicry" of EA's The Sims Social game, EA's suit alleges.
EA (EA) filed the copyright infringement suit Friday on behalf of its Maxis Label, which created The Sims Social.
"The similarities go well beyond any superficial resemblance," Maxis general manager Lucy Bradshaw wrote in an EA blog post. "Zynga's design choices, animations, visual arrangements and character motions and actions have been directly lifted from The Sims Social."
Zynga (ZNGA) general counsel Reggie Davis hit back, saying in an e-mailed statement that EA "clearly demonstrates a lack of understanding of basic copyright principles."
Davis also accused EA's SimCity Social game of bearing "an uncanny resemblance" to Zynga's CityVille game.
EA launched The Sims Social on Facebook (FB) in August 2011 as an extension of its popular Sims PC game franchise. Zynga's The Ville came out in June 2012.
Several bloggers noted the similarities between the games, a fact Maxis' Bradshaw pointed out in her post. Gaming blog Kotaku headlined its report about The Ville's launch: "Zynga's New Take On The Sims Launches Tomorrow on Facebook."
It's hardly the first time Zynga has been accused of copying successful games from other developers.
In January, NimbleBit lashed out at Zynga about its Dream Heights game, accusing Zynga of more than mere resemblances to its popular iPhone game Tiny Tower.
NimbleBit published a scathing infographic wishing Zynga a sarcastic "good luck with your game, we are looking forward to inspiring you with our future games!"
That's just one of the scores of accusations.
Still, Zynga has bounced back from bad publicity before.
In its early days, Zynga resorted to spammy and scammy tactics to gain new -Ville gamers and monetize existing ones. Facebook users became so frustrated with Zynga notifications that Facebook expressly prohibited the practice in 2010.
The company changed and its way and continued amassing a huge gaming audience.