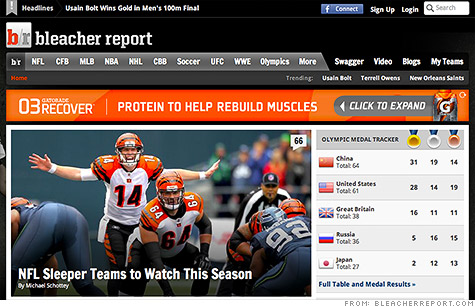 Bleacher Reports boasts over 10 million monthly unique visitors.
NEW YORK (CNNMoney) -- Turner Broadcasting announced Monday that it has acquired Bleacher Report, a popular network of sports websites.
Turner's stable of television networks includes TNT and TBS, which broadcast professional sports including the NBA, NASCAR and Major League Baseball. The company also manages web content for the NBA, the NCAA and the PGA.
The acquisition of Bleacher Report, which boasts over 10 million monthly unique visitors, "further enhances Turner's portfolio of sports offerings," said David Levy, Turner's president of sales, distribution and sports.
"[W]e were attracted to Bleacher Report's fast growth to a leading marketplace position and a valued consumer destination," Levy said in a statement.
Terms of the acquisition were not disclosed.
Bleacher Report was founded in 2006, and now comprises a network of more than 2,000 contributors writing on a variety of teams and sports topics. The company's editorial content is also syndicated to newspapers including USA Today, The Los Angeles Times and The Baltimore Sun.
"[W]e are excited to integrate our innovative content publishing model and engaging multi-platform consumer digital media experience within Turner Sports' world-class television and digital content portfolio," Bleacher Report CEO Brian Grey said in the Turner statement.
CNNMoney is a joint venture of Turner and Time Inc., which are units of Time Warner (TWX, Fortune 500).